Colorado Rockies vs. San Francisco Giants: Weather updates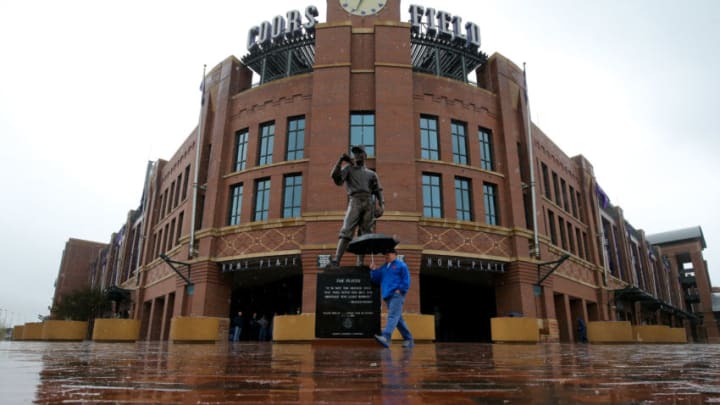 DENVER, CO - APRIL 26: A fan walks outside of Coors Field as the rain falls on April 26, 2015 in Denver, Colorado.The game between the San Francisco Giants and Colorado Rockies has been postponed due to rain. (Photo by Justin Edmonds/Getty Images) /
The Colorado Rockies and San Francisco Giants could potentially have the opening game of their three-game series at Coors Field delayed by rain in downtown Denver.
NOTE: We are updating the weather conditions for Wednesday's Rockies-Giants game on another page. You can find it by clicking here.
ALSO NOTE: We are updating the weather conditions for Thursday's Rockies-Giants matinee game as well on another page. You can find it by clicking here.
Antonio Senzatela (2-1, 4.03 ERA) is scheduled to take the mound for the Colorado Rockies in Tuesday's series opener against San Francisco's Madison Bumgarner (1-4, 3.92 ERA). Senzatela is 5-0 against the Giants in his career while Bumgarner has a 3.03 ERA in 31 career starts against the Rockies.
Charlie Blackmon has had great success in his career against Bumgarner, hitting .400 in 30 at-bats. Meanwhile, Joe Panik has caused some damage in his career when facing Senzatela, posting a .444 average in 18 at-bats.
More from Colorado Rockies News
Light rain has fallen throughout the day in the Denver metro area and forecasts showed that rain becoming heavier and more persistent as the afternoon wore on. That's exactly what happened as you can see from our updates below.
This is San Francisco's first trip of the season to the Mile High City. The Giants and Rockies met for a four-game series in San Francisco from April 11-14, with San Francisco taking three games while holding Colorado to four combined runs in those three losses.
However, in the lone Colorado win of the series, German Márquez carried a no-hitter into the eighth inning. Evan Longoria broke up the no-hit bid with a single, but that would be the only hit Márquez allowed in a 4-0 Colorado win. That victory ended an eight-game losing streak by the Rockies and the team has gone 12-7 since that much-needed win.
We are in the press box at Coors Field and will be updating the story below regularly with the latest information we have any delays. Please hit refresh on this page so you will see the latest information displayed below.
As a note, all times listed below are Mountain time.
3:30 p.m. — Heavy rain is starting to fall at Coors Field. The tarp is on the field
4:10 p.m. — Heavy rain continues to fall here in downtown Denver.
4:13 p.m. — If you're not following our friends at @RockiesWX on Twitter, you should be. Some great updates and information on weather in the Denver area and Colorado. See below…
4:23 p.m. — Skies are starting to lighten up behind the Rockies scoreboard. May be a good sign but rain still coming down on the tarp.
4:33 p.m. — The rain is letting up while skies behind the scoreboard are lightening as well. No news on delay and no movement on the tarp.
4:52 p.m. — Skies have turned a little darker and rain continues to fall.
4:57 p.m. — Pace of rainfall has increased.
5:07 p.m. — Rain coming down. Skies back to showing some signs of hope behind the scoreboard. Wind has also picked up slightly.
5:11 p.m. — Rockies social media says game is still scheduled to start on time at 6:40 p.m.
5:19 p.m. — Rain appears to have stopped.
5:23 p.m. — Workers are trying to dry off the seats and some fans are starting to enter the seating areas. Skies are getting lighter. Rain is holding off. No word on official start time.
5:37 p.m. — No movement of the tarp. No update on any potential delay or shift in starting time. Very light rain has returned.
5:40 p.m. — One hour before scheduled game time, workers appear to be starting the process of removing the tarp from the playing field. Stay tuned.
5:47 p.m. — Workers are removing the tarp and all of the standing water from it.
5:53 p.m. — Rain has stopped. Tarp is being put away.
5:58 p.m. — Tarp is off. Looks like we are trending toward an on-time start.
6:03 p.m. — Grounds crew is working on the field. No rain. Rockies say we're on track for an on-time start.
6:30 p.m. — We are starting on time. Let the Rockies and Giants series begin!