San Francisco Giants vs. Colorado Rockies: Wednesday weather updates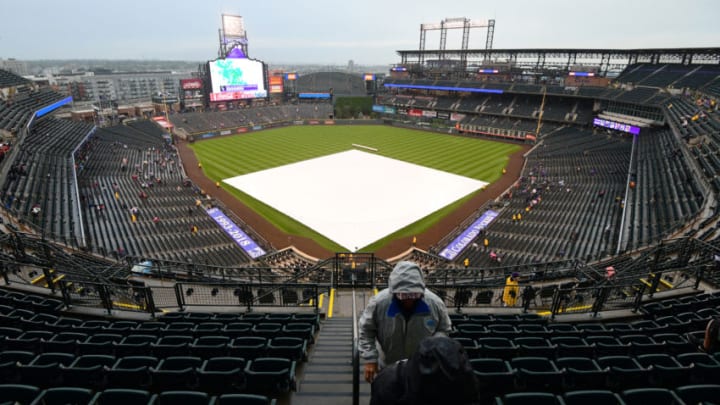 DENVER, CO - SEPTEMBER 5: Fans search for cover during a rain delay before a baseball game against the Colorado Rockies and the San Francisco Giants on September 5, 2018 at Coors Field in Denver, Colorado. (Photo by Julio Aguilar/Getty Images) /
Despite heavy rain before the contest, the Colorado Rockies and San Francisco Giants were able to complete the first game of a scheduled three-game series in Denver on Tuesday night. The second and third games of the series, however, may be a little tougher to fit in around some ugly-looking weather moving into the Denver area.
Forecasts are calling for periods of cold rain potentially turning into snow before and during the scheduled 6:40 p.m. (Denver time) game on Wednesday between the San Francisco Giants and Colorado Rockies. The two teams are scheduled to play on Thursday afternoon at 1:10 p.m. (Denver time) and snow is predicted during the day on Thursday.
It is shaping up to be a wet and cold finish to a series that the Giants started with a bang on Tuesday night, routing the Rockies 14-4. After winning just two games in Denver over the past two seasons, San Francisco made a statement with two separate five-run innings on Tuesday.
More from Colorado Rockies News
That statement was also made late in many innings. The Giants scored 13 of their 14 runs with two outs. Per Elias, that is their most two-out runs since moving to San Francisco, knocking off the previous high of 12 set on July 23, 1997 against Philadelphia.
Jon Gray (3-3, 4.22 ERA) is scheduled to take the mound for Colorado on Wednesday against San Francisco's Derek Holland (1-4, 5.34 ERA). On Thursday afternoon, Kyle Freeland (2-5, 5.90 ERA) is slated to start for the Rockies against San Francisco's Dereck Rodriguez (3-4, 5.75 ERA).
One of the few highlights of the night for Colorado on Tuesday was Charlie Blackmon hitting his second leadoff home run of the season. It was the 32nd of his career, which is an ongoing franchise record. With the homer, Chuck Nazty passed Chuck Knoblauch on the all-time leadoff home run list to rank 13th. He is now one short of tying Paul Molitor for the 12th-most all-time in Major League history.
We will be inside the Coors Field press box and keep you updated on the latest regarding any weather delays and the conditions in downtown Denver. Please refresh this page for the latest updates, which will be listing below.
All times listed are Mountain time.
10:45 a.m. — Here is a look ahead to Thursday and the predicted cold conditions in Denver…
12:23 p.m. — Rain is falling at a pretty steady pace in downtown Denver.
2:20 p.m. — How does it look at Coors Field?
2:25 p.m. — Grounds crew is in the process of removing the tarp. Guessing it is to remove the standing water from it. Will likely be replaced after the water comes off.
2:36 p.m. — Tarp is off while grounds crew works on the infield and mound. Rain all around the Denver area and Coors Field scoreboard shows it at 42 degrees.
2:48 p.m. — Update from @RockiesWX, who you should be following on Twitter…
3:32 p.m. — Was just down on the field. Rain is coming down lightly and wind is blowing in. Tarp is still off the field.
3:37 p.m. — Tarp has been placed back on the field.
4:05 p.m. — Light rain is still coming down. The tarp is on the field. Stadium lights are on. No word on delay or start time.
4:30 p.m. — Giants players have come on the field are doing some stretching. Light rain still falling. No new updates on any delays.
4:40 p.m. — Rain falling. Tarp on field. Giants continue to stretch but no sign of the Rockies.
4:48 p.m. — Some fans have entered the stadium. Ushers are attempting to wipe down some of the seats. Rain has momentarily paused.
4:52 p.m. — A bold Twitter prediction…
4:57 p.m. — Light rain has returned. Giants are walking off the field. No movement on the Rockies side.
5 p.m. — Current temperature at Coors Field is 42 degrees. Very light rain falling but ushers continue to try to dry the seats. Obviously preparing for game time at 6:40 p.m. so we will see if that actually happens or not. No official news on any delays still.
5:11 p.m. — Grounds crew carrying bags of material they will likely be putting on the infield at some point shortly, potentially even during the game. Putting them in the visitors dugout.
5:21 p.m. — Ushers working on seats. Very few fans hanging out in the concourse. No sign of life on the field from either side.
5:27 p.m. — The rain has returned.
5:29 p.m. — Grounds crew has come out to lift the sandbags off the tarp. They will presumably flip it to get the standing water off. It will likely return. We'll let you know.
5:36 p.m. — Tarp flipping is commencing.
5:44 p.m. — It appears that the ground crew is going to roll up the tarp. There will be some work to do on the infield to get it ready but still no word of delay.
5:48 p.m. — Tarp is being rolled up. Some fans are venturing into the seats. They are hearty souls.
5:53 p.m. — Grounds crew is working on the infield. Seem to be trending toward an on-time start. No word either way (delay or not) here in the press box.
6 p.m. — Temperature in Denver holding at 42 degrees. Ground crew prepping field. Giants catcher heading to bullpen.
6:03 p.m. — Rain has returned. Grounds crew is rolling the tarp back out. Stay tuned.
6:04 p.m. — Tarp is back on the field. Rain coming down much heavier.
6:09 p.m. — Some words of wisdom from our friends at @RockiesWX…
6:12 p.m. — Live look at what we're seeing from the press box…
6:15 p.m. — There are people taking a group picture in the Rockpile with the wind coming in and the rain coming down hard. Hope it's a good photo.
6:18 p.m. — Sandbags are going back on the tarp. No way this game is starting on time.
6:21 p.m. — They are preparing to do the National Anthem. A sign they're trying to get the game in tonight at some point.
6:32 p.m. — No word on a delay … but there is no way the game is starting in eight minutes.
6:36 p.m. — Still no official word on a delay or postponement.
6:40 p.m. — It's officially game time. Tarp is on the field. Rain is coming down. Some fans are in the seats. No word on what's happening with the game.
6:43 p.m. — Both the Rockies and Giants are off on July 4. Maybe a rescheduled double-header here at Coors that day?
6:51 p.m. — MLB.com says the game is delayed but no official announcement here. Makes sense that, since they haven't started, it's delayed.
6:55 p.m. — Steady rain is coming down. Temperature holding at 42.
7 p.m. — We have heard this. No official word though…
7:01 p.m. — Looks like some of the TV equipment near the field is being disassembled. Read into that what you will but I don't think they're planning to broadcast a game tonight.
7:04 p.m. — It's official. Game has been postponed until July 15 at 12:10 p.m. as part of a split double-header.