What Bill Schmidt's comments mean for the Colorado Rockies in 2023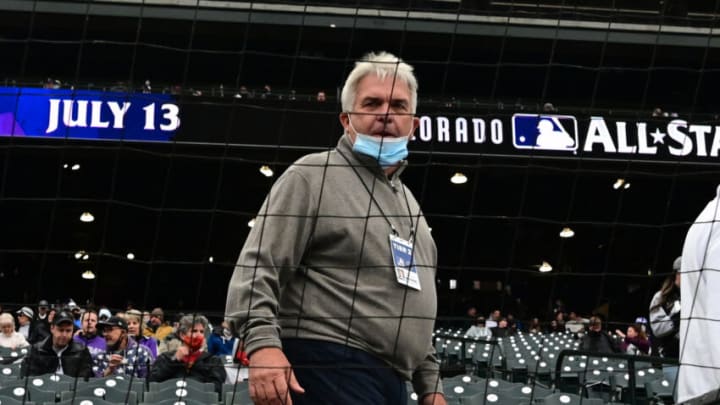 May 16, 2021; Denver, Colorado, USA; Colorado Rockies interim general manager Bill Schmidt before the game against the Cincinnati Reds at Coors Field. Mandatory Credit: Ron Chenoy-USA TODAY Sports /
CHICAGO, ILLINOIS – SEPTEMBER 16: Kris Bryant of the Colorado Rockies looks on from the dugout against the Chicago Cubs at Wrigley Field on September 16, 2022 in Chicago, Illinois. (Photo by Michael Reaves/Getty Images) /
Prior to yet another underwhelming 9-3 loss on Saturday, Bill Schmidt spoke to the media recapping his thoughts on a mundane and uninspiring 2022 season. His answers to questions the media asked shouldn't get any Colorado Rockies fans enthusiastic about major changes for 2023 as his answers pretty much eluded to the Rockies doing much of the same next year.
"Needless to say, this season hasn't met our expectations," Schmidt started off with.
It's actually gone exactly how many had predicted. With a win percentage of .425, the Rockies are on pace for 69 wins. In the preseason PECOTA projected 67 wins. Fangraphs projected 68 wins. Vegas set their win total at, dependent on the sportsbook, anywhere between 67.5 and 70.0 wins.
This season only hasn't met the front office's expectations. And yes, we should expect them to expect better of themselves. And while injuries have influenced their incredibly subpar 22-38 post-All-Star Game record, this comment was just the beginning of Schmidt's diatribe of disillusion.
Colorado Rockies: Dissecting Bill Schmidt's comments
"We didn't play defense to the standards that we normally play. And our situational hitting left a lot to be desired, at times," Bill Schmidt said.
Of course, the defense dropped off. Those kinds of things naturally will happen when your franchise does nothing to appease talents like Nolan Arenado and Trevor Story, two of the best defensive players in Colorado Rockies history.
The acquisition of Kris Bryant and having him in left field certainly wasn't going to be a great defensive decision for the 42 games he was active. And per Fangraphs, yes, there was a major dropoff defensively. But how much does it actually influence their win total? That's a different story.