Colorado Rockies poll: Level of confidence in the 2020 team right now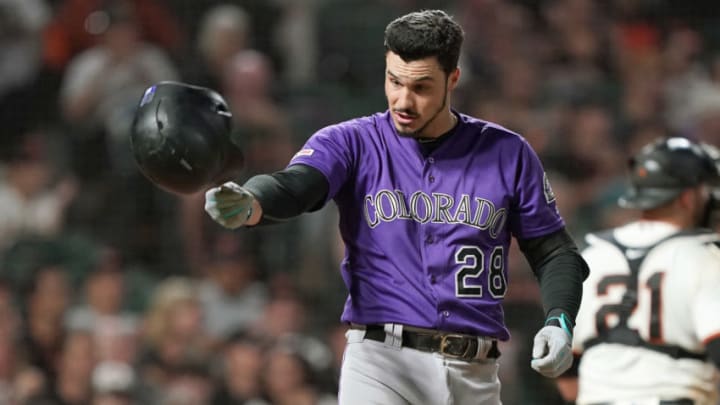 SAN FRANCISCO, CALIFORNIA - SEPTEMBER 25: Nolan Arenado #28 of the Colorado Rockies reacts and tosses his helmet away after striking out swinging against the San Francisco Giants in the top of the seventh inning at Oracle Park on September 25, 2019 in San Francisco, California. (Photo by Thearon W. Henderson/Getty Images) /
After an offseason that has (so far) been as quiet as expected, we asked Colorado Rockies fans to tell us what they thought about the team's chances at a winning record in 2020.
Granted, it's the middle of December and there may still be personnel moves made before the Colorado Rockies start spring training. However, with the way the team is constructed right now, Rockies fans who took our poll are not thrilled with the franchise's chances at another run at Rocktober in 2020.
In our Twitter poll, we asked Rockies fans to tell us where they thought Colorado's win total would land next season. Of the 322 respondents, 60 percent told us they believed the Rockies would finish with 79 wins or less next season. That includes the majority (31 percent) that chose our option for 70-74 wins.
These are the fans who believe that Colorado's 2019 record (71-91) was no fluke. They likely believe that the Rockies should have made more moves in the offseason (so far) and that the rotation and bullpen will once again be inconsistent.
These are also the fans who may buy into some of the early projections about Colorado's power (or lack thereof) in 2020. Warning, these early projections aren't favorable for Colorado's chances at the postseason.
More from Colorado Rockies News
Within our two categories with 80 wins or more, 41 percent of respondents made their voices (and confidence) known by picking a choice here. It proves that there are Rockies fans who are optimistic about the team's chances of making their third playoff appearance in the last four years.
The fans who chose these numbers are the ones who believe that Kyle Freeland and Wade Davis can return to their 2018 forms and that Daniel Murphy will rebound after an injury-plagued initial season with Colorado.
Will Colorado make any moves to sway the opinions of Rockies fans? It will be interesting to see as it is being reported the team is still looking for a catcher to pair with Tony Wolters. Will that signing be enough to move the needle one way or the other? We will take another poll in mid-January to find out.
By the way, yes, I know Twitter added up the poll to 101 percent. No, I don't know why.