Coors Field: Why The 21-Year-Old Park Still Shines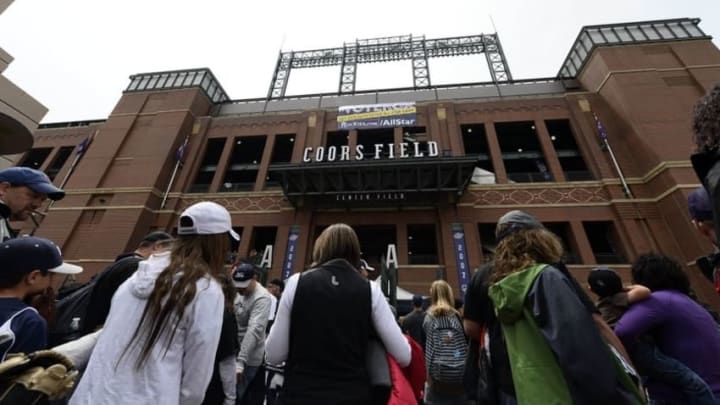 May 14, 2016; Denver, CO, USA; General view of outside of Coors Field before the game between the New York Mets against the Colorado Rockies. Ron Chenoy-USA TODAY Sports /
This isn't a news flash to most of you, but it bears repeating and highlighting for the purpose of this article. Coors Field, the home of the Colorado Rockies, is the third-oldest stadium in the National League.
Only Wrigley Field and Dodger Stadium have more years on them than the structure at 20th and Blake. That means that, at 21 years old, rather than getting ready to party after hitting "legal age," the stadium is a senior citizen amongst its peers.
By the time SunTrust Park opens its doors in time for the 2017 home opener, the Atlanta Braves will have opened two new stadiums in the time that Coors Field first welcomed Rockies fans through its gates. Progress certainly hasn't stood in the way of the Braves … or many other National League teams.
I thought more and more about the state of Coors Field and LoDo after reading this article from a San Diego Padres fan who made his first visit to the home of the Rockies during a recent Colorado-San Diego series. I admit, some of his comments made me chuckle and some made me shake my head.
First, you can see the mountains from the upper deck. It's really not that hard to figure it out. Ask anyone. Really. They'll be happy to point to the stairs to get you there. I've watched many amazing sunsets from up there. I bet many of this article's readers have as well.
Second, for every Rockies game, I park two blocks away from Coors Field in a parking garage for $10 and walk back there many times as the midnight hour approaches. I've never once been fearful of making that walk by myself late at night, carrying a computer and other valuables. Considering the two blocks are filled with bars and restaurants that are teeming with people of all ages, I don't exactly feel like Daryl Dixon dodging zombies and fleeing for my life.
By the way, I've walked to games at Petco Park and AT&T Park and I can tell you I've seen some shady characters and areas during those walks. It happens in every city with a major league stadium … and, near some stadiums, a murder could even occur. Gasp!
More from Colorado Rockies News
Third, a lack of buzz in the stadium on the day he visited could've come from the fact that the Rockies were playing a last-place team (the Padres). Just sayin.
If you've been to Coors Field, you know that the visiting team is always well represented. Whether it's the Dodgers or Giants or Cubs or Mets or whatever team is sitting in the opposing dugout, there are always fans there to cheer them on. Why is that? Because Denver and the surrounding areas have become a melting pot of sports fans with so many folks moving to the 303 and beyond. Check out this article from The Denver Post showing the recent boom in population.
Apparently the San Diego writer would've felt a lot better if someone had come up and poured a beer over his head for wearing a Padres jersey. Well, unlike some stadiums, Colorado actually is used to opposing teams being represented in the stands. It's not a problem. It's not an issue. It's not something that Colorado fans look down on. These are friends and neighbors who have moved in from opposing areas. Are we supposed to treat visitors like they do in Oakland's Black Hole?
After reading the article, it didn't take me long to realize that a lot of folks come to Denver thinking the air is too thin and the marijuana is too plentiful. We seemingly don't care if Nolan Arenado makes a great play or Jon Gray racks up another strikeout. "Get off our cloud, man," should be the Rockies' new slogan, right?
More from Rox Pile
Whatever.
I'm not a Colorado native. I'm lucky enough to have moved to the Centennial State and now call this part of the world home. The one thing that I've learned in a short amount of time is that Colorado fans are passionate about their baseball team. The Rockies may not earn the media coverage of the Denver Broncos until they reach the playoffs again, but log on to Rockies Twitter any night the Rox are playing and you'll see a lot of "buzz" in people who care about their team and if they win or lose.
And what about Coors Field? I think at the ripe old age of 21, she's looking pretty darn good. One of our staff writers penned an ode to her not long ago. I think she nailed it. Give me a craft beer in the upper deck about the sixth inning (by the way, that's where and roughly when you can see the sun set over the mountains, if you didn't know) of any home game and I'll be pretty darn close to heaven.
Sure, Coors Field has its quirks and warts … but what stadium doesn't? It's a great place to attend a game and enjoy some of the best views in the country (along with some of the best defensive plays from the left side of the infield). It's also brought a lot of businesses and people into LoDo that wouldn't be there otherwise.
It may not have ivy on the outfield walls or Vin Scully sitting in the booth, but Coors Field has plenty to offer its fans. For one, I'm glad to call it my "home park." I'll bet the vast majority Rockies fans would be quick to say they are as well.
Next: The 5 Biggest Hits of CarGo's Career
Richard, you say in your article you're not dying to return to Coors Field any time soon. If you ever change your mind, let me know. I'll buy you a beer, point you to the stairs, and show you, absolutely, why the mountains top the beach any day of the week.