Coors Field: The Five Best Things About Colorado's Home Field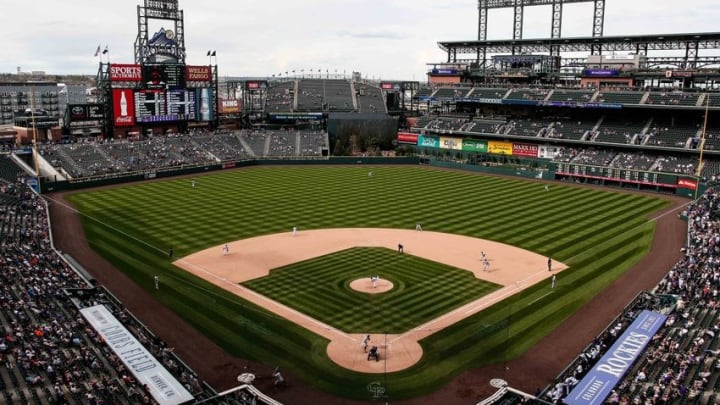 Apr 14, 2016; Denver, CO, USA; A general view of Coors Field in the ninth inning of the game between the Colorado Rockies and the San Francisco Giants. The Rockies defeated the Giants 11-6. Mandatory Credit: Isaiah J. Downing-USA TODAY Sports /
Apr 14, 2016; Denver, CO, USA; A general view of Coors Field in the ninth inning of the game between the Colorado Rockies and the San Francisco Giants. The Rockies defeated the Giants 11-6. Mandatory Credit: Isaiah J. Downing-USA TODAY Sports /
It's never easy being a Colorado Rockies fan, but let's not forget that we get to watch our team play in one of the best venues in the country. Here's an ode to Coors Field.
In this article, Rox Pile writer Michelle Stalnaker and editor Kevin Henry take a look at some of the things that they believe make the 20th and Blake icon the best ballpark in Major League Baseball.
If you agree, disagree, or just have your own opinions about what shouldn't be missed at Coors Field, let us know in the comments section below. We'd love to hear your thoughts.
Stalnaker: Coors Field, the third-oldest ballpark in the National League, is a gem. We all know this. I feel like I know it better than most since I took a 15-year break from living in Denver between my childhood and now. I went to games at a lot of different parks during that time, but none of them ever measured up to Coors Field. It's good to be back.
Henry: Even when I didn't live in Colorado, Coors Field was one of those "destination ballparks" for me. There was something very cool about coming to the game in LoDo and knowing you were going to be treated to some of the best sunsets and craft beer that you'll find at any stadium. Hey, you might even watch some good baseball as well!
I came to Coors Field for the first time in 2007 when I was here for a meeting. It was a great season to catch a Rockies game and I could immediately see why people loved the atmosphere. Now I'm glad this is my home park!
Next: The First Thing We Love About Coors Field is...