Colorado Rockies fans give Nolan Arenado greeting he deserved in return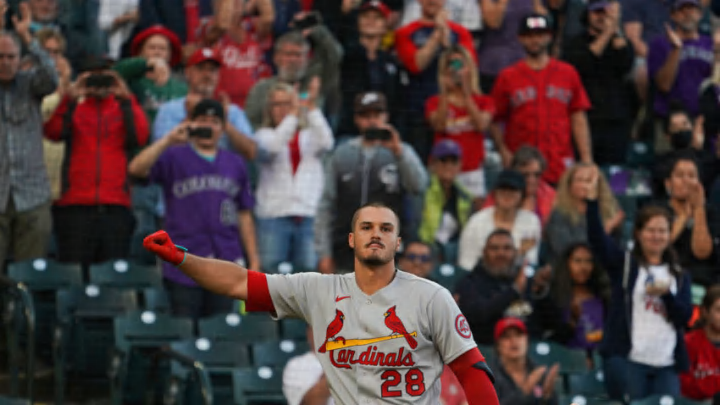 Jul 1, 2021; Denver, Colorado, USA; St. Louis Cardinals third baseman Nolan Arenado (28) gets a warm welcome from the Colorado Rockies fans during the first inning at Coors Field. Mandatory Credit: Troy Babbitt-USA TODAY Sports /
As the pages of the calendar turned to July 1 on Thursday, so came the long-awaited return of Nolan Arenado to Denver.
For the first time since his trade from the Colorado Rockies to the St. Louis Cardinals in February, Arenado and his Redbird teammates made the trek west to the Mile High City for a four-game series at his former home base — Coors Field.
The standout in the hot corner during his eight-year tenure with the Colorado Rockies was warmly greeted by Rockies fans in the series opener on Thursday night in Colorado's eventual 5-2 walk-off victory.
During pregame, a tribute video in honor of Arenado for his time with the Rox was played on the stadium video board. The video drew a warm ovation from fans in attendance, not only just Colorado fans but also from a sizable following of Cardinals fans on hand.
The ovation pregame was a precursor for what was to come later.
Prior to his first at bat in the opening inning, as his name was given by the stadium public address announcer, Arenado was greeted with a standing ovation from the crowd. In response, the Cardinals third baseman doffed his cap as he faced the crowd and gestured acknowledgement of his appreciation by striking his chest at heart level.
Arenado finished the game 0-for-4 at the plate with a pair of infield pop outs, a strikeout, and a groundout to shortstop. Defensively, he had three assists while also recording a putout at third base on the back end of a double play to end the fourth inning.
Prior to the game, In a press conference Thursday afternoon, Arenado touched on a variety of topics surrounding his time with the Rockies as well as his thoughts about returning to Coors Field for the first time in a uniform other than a Rockies uniform.
Here are snippets of comments from the five-time All-Star with Colorado during the presser:
About returning to Denver as a Cardinal for the first time:
""Obviously, flying into Denver and going straight to the hotel felt a little foreign in a way. I am so used to getting in my car and going home to my place down here in downtown. So all that stuff just felt a little different. Obviously, just being here, the weather, seeing some of the people that I know that work here. All that felt like it did in the past. My last glimpse of Coors was with no fans. It was not the most fun time in 2020 so it will be a lot better to see a lot of fans. I think those will bring back the good memories of 2013 to 2019.""
About taking the field at Coors Field on Thursday night:
""I think there will be a little bit of nerves, walking to the plate but, at the same time, I feel it will probably go away pretty quickly just because we have a ball game we are trying to win. The Rockies have been playing good at home. They make it tough on teams when they come here. We have to find a way to win. I think that is the bigger picture.""
More from Colorado Rockies News
About what his greatest accomplishment was during his time as a Rockie:
""I feel like I showed up every day and gave them everything I could. I really feel I can look at that and look at my past and really have no regrets when it comes to what I did here and how I performed. I feel like I did some great things that the fans are excited about. The relationships I built with a lot of the people here that I will cherish for the rest of my life. I feel like the one thing I was always focused  on is making sure I treat everyone the same regardless of their stature.""
About the response that he might receive from baseball fans after his move to St. Louis:
""I know that not everyone is going to be all lovey-dovey. I understand that. That's okay. I would hope that the people that aren't huge fans of me any more can look back at some of the great things that went down when I was here. That's all I try to do is do great things for the city. That was my main focus. Hopefully, they can look at that. If not, that's all right. The boos are part of it. Just got to roll with it. This isn't the only place I will get booed. I am not too worried about that part.""
About the possibility of returning to Denver later in July as a starter for the National League All-Star team (Arenado was asked about this before it was announced he was a starter):
""Hopefully, I make it. I feel like I am doing a good job. I would like to finish the first half a little bit better. It would be amazing to come back here for the All-Star Game and spend some time here again. We got four days here now, but it would be really nice to come back again. I love Denver so it would be really good.""