Colorado Rockies: Another assistant GM departs, showing more troubling signs ahead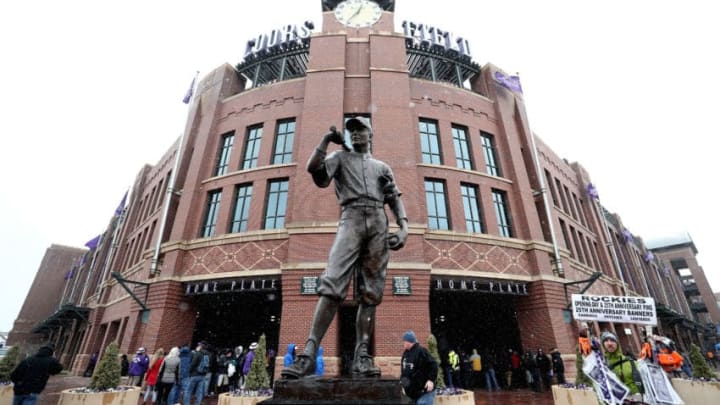 DENVER, CO - APRIL 06: Fans enter the stadium before the Colorado Rockies home opener against the Atlanta Braves at Coors Field on April 6, 2018 in Denver, Colorado. (Photo by Matthew Stockman/Getty Images) /
Nick Groke of The Athletic was first to report (subscription required) on Tuesday night that the Colorado Rockies are losing yet another one of their assistant general managers in Zach Wilson.
This comes on the heels of assistant general manager Jon Weil resigning late last week. Weil was in charge of player personnel but Wilson was in charge of player development (also known as their farm director). As farm director, his job entailed the organization of the minor league teams and communication between the minor league teams and the major league coaching staff.
Wilson, who was in his 20th year in the Rockies organization, was also Jeff Bridich's assistant farm director when Bridich was farm director. Wilson was elevated to farm director when Bridich was elevated to GM in 2015.
With both Weil and Wilson out of the picture, the Rockies still haven't hired anyone to replace them (or Bill Schmidt, who replaced Bridich as interim GM) and, seemingly, they aren't going to, at least for now. As of now, Chris Forbes, who was the assistant farm director, will assume Wilson's role but, again, seemingly, nobody is replacing Forbes so the Rockies front office is shrinking rapidly.
More from Rox Pile
What does Zach Wilson's departure mean for the Rockies?
Just like the departure of Jon Weil, it is a move that, at bare minimum, has bad optics. In the span of 2+ months, when your general manager resigns and two assistant GM's resign as well, there's something else going on.
Obviously, we don't exactly know what's going on behind the scenes but with what we do know, it's not a good sign for the near future.
If the Rockies are going to get as much as they can in trades for Trevor Story, C.J. Cron, Daniel Bard, Mychal Givens, Jon Gray, and possibly others, Weil and Wilson would have been key figures in identifying talent in return since Weil's expertise was in talent evaluation (e.g. getting Germán Márquez from the Rays) and Wilson's expertise was in the minor league system.
The impending free agents, trades, and development of players were a few reasons why this season is the most important in Rockies history but also, now, the front office turnover is a huge reason too.
Will the Rockies stay with the same old, same old or with they turn a new leaf and have a completely different front office? As of now, it looks to be the latter but interim GM Bill Schmidt's job may be on the line too, depending on a few things, including the return for trades in the coming weeks.