Colorado Rockies: What assistant GM Jon Weil's departure means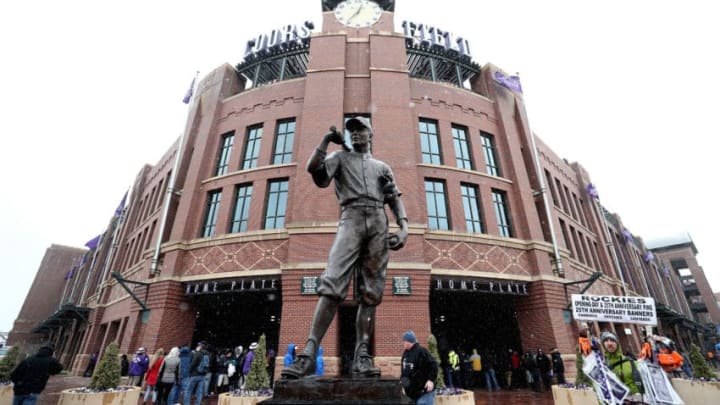 DENVER, CO - APRIL 06: Fans enter the stadium before the Colorado Rockies home opener against the Atlanta Braves at Coors Field on April 6, 2018 in Denver, Colorado. (Photo by Matthew Stockman/Getty Images) /
On Thursday, Bob Nightengale of USA Today reported on Twitter that the Colorado Rockies and assistant general manager Jon Weil mutually agreed to part ways.
Weil, who had been in the Rockies front office since 2005, was most recently the team's assistant general manager who was in charge of player personnel.
As The Athletic's Nick Groke noted on Twitter, Weil is known to be a excellent evaluator of talent and he was a key figure in the 2016 trade between the Rockies and the Tampa Bay Rays, when the Rockies traded Corey Dickerson and Kevin Padlo (who made his MLB debut for the Rays this season) for Jake McGee and Germán Márquez.
Weil was also considered for the general manager spot that was vacated by Jeff Bridich earlier this year but the job was given to Bill Schmidt.
More from Rox Pile
So what does Jon Weil's departure mean for the Colorado Rockies?
Weil's departure could mean a few things for the Rockies going forward.
First, it could be a sign that other members of the Rockies front office are tired of the way things have been run.
Is it a coincidence that Steve Merriman (one of their minor league pitching coordinators who was a key figure in the Rockies analytics department), most of the rest of the Rockies analytics department, Jeff Bridich, and now, Jon Weil, have all left the team in the last six months or so?
Is it a coincidence that, seemingly, none of these people have been replaced (with the exception of Bridich, who was replaced by Bill Schmidt … who, seemingly, hasn't been replaced as the team's scouting director)? Other people have left the organization too with, seemingly, no replacements.
Secondly, it could signify that the Rockies front office will have more turnover in the coming weeks and months. The Rockies have long been known to be a very loyal organization and, particularly, to their front office staff. Will some front office personnel be fired and will a new GM and/or Team President be hired outside of the organization?
Thirdly, it could severely impact the Rockies in trades that will likely be happening in the next few weeks. If Jon Weil wasn't part of the conversations in the Corey Dickerson trade in 2016, would the Colorado Rockies have Germán Márquez? We will likely never know for sure, but you could definitely argue that Márquez wouldn't be a Rockie.
Also, we will likely never know what the loss of Weil will be for the Rockies but, at least from the outside looking in, it's a move that doesn't look good for the Rockies in a few different ways and it could be another sign that there's more departures to come.