Colorado Rockies: What exactly is the MVP chain?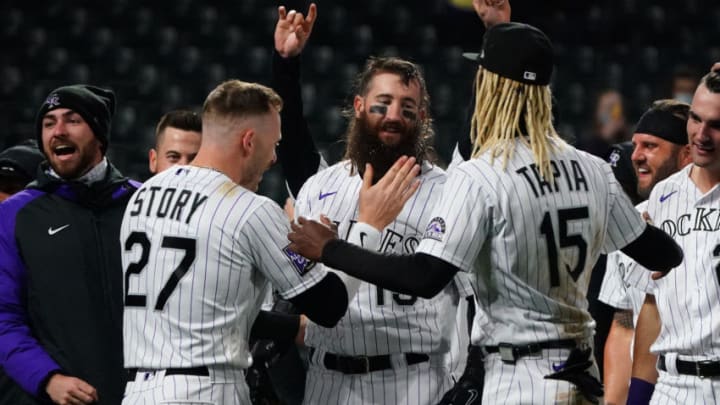 May 4, 2021; Denver, Colorado, USA; Colorado Rockies right fielder Charlie Blackmon (19) celebrates his three-run home run with shortstop Trevor Story (27) and left fielder Raimel Tapia (15) to defeat San Francisco Giants the ninth inning at Coors Field. Mandatory Credit: Ron Chenoy-USA TODAY Sports /
Colorado Rockies All-Star shortstop Trevor Story stood proud in front of the cameras for his postgame interview following an April 25 win over the Philadelphia Phillies at Coors Field, showcasing the prize he had earned with a 2-for-4 performance.
Dangling from his neck for the world to see was the Colorado Rockies MVP chain, gaudy enough to look like it had been purchased from a New Orleans gift shop, but yet one of the most prized possessions following a Rockies win during this 2021 season.
So far this season, Story has earned Colorado Rockies MVP chain, and so has Ryan McMahon, Jon Gray, Dom Nunez, and likely others we haven't heard about on Zooms or seen on TV.
So what exactly is this MVP chain and how has it become such a big part of Colorado's postgame victories? Well, here's the quick explanation from Charlie Blackmon about it.
""I'm not sure exactly where it came from. We started it a little bit last year, but I think it's I think it's something nice to bring everybody together and kind of recognize some things that have happened on a positive side," Blackmon said."
OK, but let's dive into the details a little more. McMahon told us a little about it after Colorado grabbed its first road win of the season in late April.
According to McMahon, the celebration includes a win song (which reliever Robert Stephenson told us was "The Business" by Tiësto) and Blackmon talking about the players who did well, with one ultimately earning the coveted chain. Then, the music gets cranked up, as Gray recently dished after earning the chain after allowing just two hits over 6.2 innings of work in an April 8 home win over Arizona.
""We'll call him (the MVP) out," Gray explained. "Everybody gets excited. It's kind of like a little celebration. They come put the chain on and turn the music up. It just gets wild for a little bit.""
While Blackmon has become the emcee for the spontaneous postgame party, he also sees the awarding of the chain and the entire celebration surrounding it as important.
""Yeah, it's fun," Blackmon said. "You get everybody together and everybody really cares about the game. It's nice to be able to have an outward expression of celebration or fun when things go well, right?""
More from Colorado Rockies News
Things haven't gone well at all times for the Rockies so far this season, of course.
They haven't gone well for Blackmon either, who despite hitting .313 in his last nine games, is still just hitting .204. It's been for Blackmon, who will turn 35 in July, to enjoy the moment of a victory as a team even if you're struggling individually.
""It's so hard. There's so much failure that sometimes you forget that one win is a big deal, right?," Blackmon said. "Ultimately, that's all you have to do (win one game). Just do that as many times as you can. And so I think you can't only beat yourself up when things don't go well. You also have to reward the guys when we have a win."It's still a game. I think you have to enjoy it. You need to have fun doing it. And, if you're doing those two things, then you're going to work harder at it and try to find a way to win more so than if you were not having any fun.""
During the grind of a 162-game season, finding the moments of joy is vital, as is pulling 26 players together to work as a team and push individual goals into the mold of team goals.
""I also think it's important to realize that while some individuals may not have played well, it's ultimately about the team success. I think it helps guys realize that, even if you know if you didn't do well, we're here trying to win as a team and that pulls you away from that inward perspective.""
While Blackmon has scuffled at the plate this season, his value to the team as a leader remains immeasurable. He also showed his Chuck Nazty side on Tuesday night, belting a walkoff home run to help the Rockies complete a six-run, seventh-inning rally and split a doubleheader. He also showed it on Wednesday when he had two hits as well.
Blackmon's late Tuesday heroics earned him a shower via the traditional cooler dump, and then a television interview followed by a Zoom interview with the press, including Rox Pile. There's no word on if Blackmon himself earned the MVP chain for his towering shot or if someone else took over his emcee duties while he made the press rounds. However, for two nights, a season of frustration was pushed aside as a series of individual accomplishments led to a team win, and that's enough to put a smile on a face, MVP chain or not.