Colorado Rockies vs. Houston Astros: Will snow impact the series?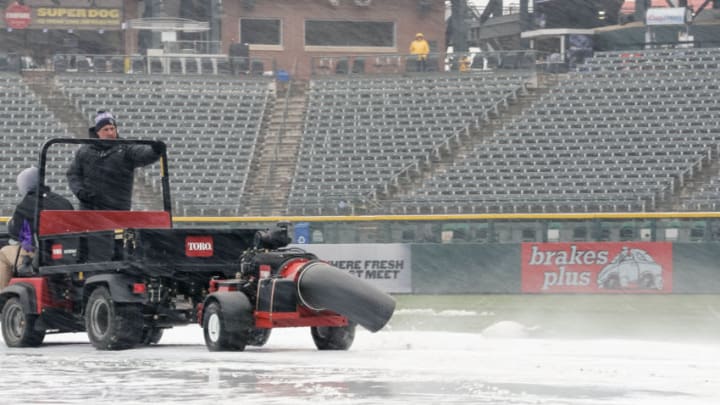 Apr 6, 2018; Denver, CO, USA; Grounds crew personnel blow snow off the infield tarp before a game between the Colorado Rockies and the Atlanta Braves at Coors Field. Mandatory Credit: Isaiah J. Downing-USA TODAY Sports /
The Colorado Rockies and Houston Astros are scheduled to begin a two-game series on Tuesday night at Coors Field. But will snow and cold weather impact the series?
This is the latest we know about the weather surrounding the Colorado Rockies-Houston Astros series in Denver.
On Monday night, a quick-moving system dumped anywhere from 4 to 9 inches of snow across the Denver metro region and northern Colorado. It was a scene reminiscent of the previous weekend when snow and cold temperatures caused the postponement of the opener of a three-game series between the Rockies and New York Mets at Coors Field. As a result, the teams played a double-header on Saturday.
April snow is certainly nothing unusual for the Denver area, but will the latest round impact Tuesday night's game at Coors Field. As of right now, it seems that the answer is no, based partially on a tweet from the Rockies earlier on Tuesday.
More from Colorado Rockies News
It appears that Tuesday's game will be played and will be start on time.
While the grounds crew may have the field in playing condition, there isn't much that can be done about the cold temperatures that are expected for Tuesday night's game. With a 6:40 p.m. (Mountain time) scheduled start, temperatures are forecast in downtown Denver to be in the high 30s.
The snow may have moved out in time for Tuesday's game, but there is a chance of snow showers moving back into the region in time for Wednesday's series finale, scheduled for 1:10 p.m. (Mountain time).
We will be at Coors Field for both games and will be updating this article below with any delays or related weather news. Be sure to follow us on Twitter at @RoxPileFS for information as well.