Colorado Rockies: After mundane start for German Marquez, should we be worried?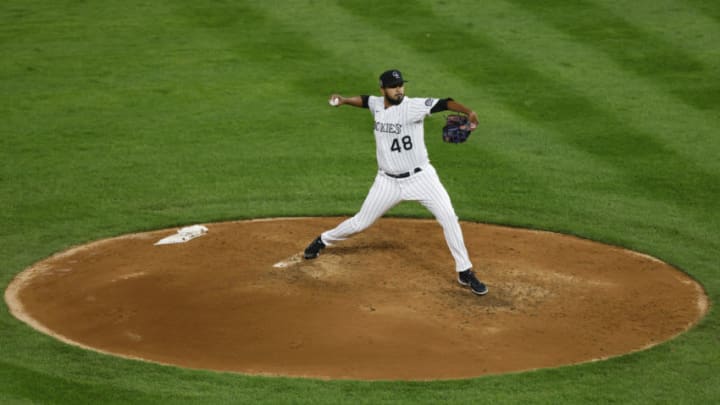 DENVER, CO - AUGUST 11: German Marquez #48 of the Colorado Rockies delivers to home plate during the fifth inning against the Los Angeles Angels at Coors Field on September 11, 2020 in Denver, Colorado. (Photo by Justin Edmonds/Getty Images) /
It hasn't been the easiest start for Colorado Rockies' ace German Marquez. After a tough Opening Day against the Dodgers, he's started to settle more into form against the DBacks and Giants. But he hasn't quite looked the same, even with some results that are positive at face-level. Matter of fact, if you just blinding look at some of his stats you may even confuse him for almost any other underachieving Rockies pitcher because we're just not used to how some of his stats look right now:
Even though it's just three starts, it's somewhat concerning to me, so I wanted to dig into the stats further to see if there's anything to truly worry about.
Here are what the numbers say about Colorado Rockies pitcher German Marquez so far in 2021.
We'll dig into all the different stats to see what they say about Marquez: Traditional, Advanced, and then Statcast. First, let's dig into the traditional stats:
4.02 ERA | 1.79 WHIP | 19.4% K% | 15.3% BB % | .279 BAA
More from Colorado Rockies News
Two things here pop out at me immediately: That ugly 1.79 WHIP and that super high 15.3% BB%. While both are influenced by that miserable Dodgers start, these still bled over into his starts against the DBacks and Giants. In those two starts, he posted up a WHIP of 1.50 and a BB% of 9.8%. For a guy who normally posts up a WHIP around 1.20 and a BB% of about 7.0%, these aren't exactly stellar numbers. Add in what would be a .279 Batting Average Against, which would be his highest mark since his rookie season, and it doesn't appear all peaches and cream for Marquez.
The good news for him is that he's still getting results in terms of ERA. An ERA around 4.00 is always going to be pretty good for anyone who calls Coors Field home. He's getting soft contact and that's balancing out a lower than expected K% from him.
On the surface level, the numbers are very confounding. They're no doubt influenced by a small sample size, but they're still concerning and traditional stats won't tell us everything. Let's move on to some of the advanced stats to see what they have to say.