Colorado Rockies: It's literally time to bring back "Turn Ahead the Clock"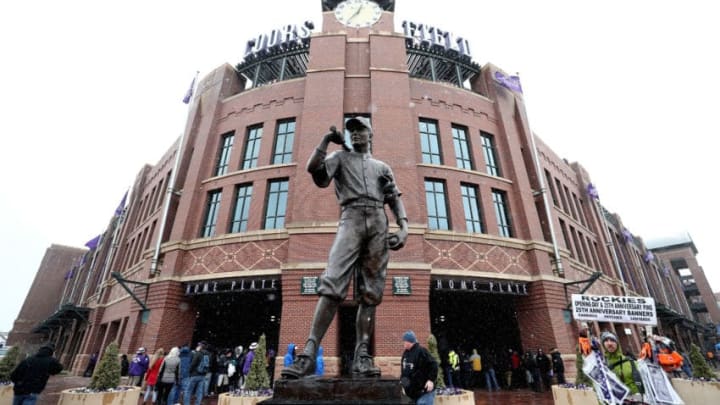 DENVER, CO - APRIL 06: Fans enter the stadium before the Colorado Rockies home opener against the Atlanta Braves at Coors Field on April 6, 2018 in Denver, Colorado. (Photo by Matthew Stockman/Getty Images) /
In 1998, the incredible happened. The Seattle Mariners and Ken Griffey Jr. flipped the idea of "Turn Back the Clock Night" on its head, opting to look to the future instead.
"Turn Ahead the Clock Night" was a rousing success for the Mariners and helped generate so much fan interest that the entirety of MLB took notice. What occurred after was a turn of events that many see as a stain on the rich history of baseball jerseys but, for Colorado Rockies fans, it was a blast.
It is literally time to bring those wonderful Colorado Rockies Turn Ahead the Clock jerseys back.
First, a little more background. When the Mariners saw success in their special night, MLB took the idea and ran with it. They capitalized on the Millennium fever and found a perfect corporate partner for the league-wide event, Century 21, a real estate company. The idea for the first "Turn Ahead the Clock Night" was a celebration of the Mariners' history and looking towards the future, taking place in 2027. The league-wide event should match evenly with the corporate sponsor, so can you guess what year it was set to be turning ahead the clock to? Well, 2021, of course. The 21st year of the 21st century, brought to you by Century 21.
More from Colorado Rockies News
Mostly, people derided the "Turn Ahead the Clock" series as a cheap cash grab, taking advantage of an amusing gimmick from a single team and wringing out anything they could get out of it. Mostly, they were right. A lot of the jerseys look like they were made solely using an enlarged alternate logo and strange colors. This is actually what both the Rockies and Mariners did, but for them, it worked wonderfully (I have to give credit to the Mercury Mets though because they absolutely went bananas with the idea and it was wonderfully cheesy). The jerseys were clean and nice-looking, and not at all garish and cheap like some of the other teams' designs.
Not only did the Rockies have one of the best-looking jerseys of the event, but one of the most iconic Colorado Rockies moments happened during this series. Heck, when I picture Larry Walker in his SpongeBob SquarePants fishing shirt or the picture of him taken after his absolute moonshot walk-off three-run home run against Atlanta. That is arguably one of the most iconic pictures taken in the Rockies' history (though it is no Todd Helton clinching the World Series berth), and what jersey is he wearing? Turn Ahead the Clock.
We are in the year the event took place. Rockies management, if you are listening, it's time to bring the jerseys back out of the vault.
Note: Facts for this article were found using BR Bullpen and ESPN