Colorado Rockies fans need to get used to this R-word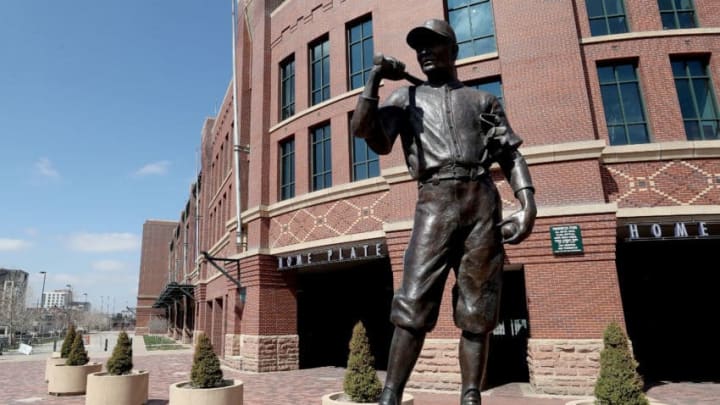 DENVER, COLORADO, - MARCH 26: Coors Field remains closed on what was to be opening day for Major League Baseball on March 26, 2020 in Denver, Colorado. Major League Baseball has postponed the start of its season indefinitely due to the coronavirus (COVID-19) outbreak. (Photo by Matthew Stockman/Getty Images) /
When we tweeted on Friday night shortly after Nolan Arenado was traded by the Colorado Rockies to the St. Louis Cardinals that the Rockies were entering a rebuild, it caused quite a stir about the direction of the franchise.
One simple tweet with the words, "Hi folks, welcome to the rebuild. It's OK to say it," on Friday night gathered plenty of reactions. Those reactions included questioning why we were talking about a rebuild or what the Rockies could possibly use to rebuild the team with a farm system that has just one top 100 prospect (Zac Veen, coming in at number 54 overall). And that one top prospect, by the way, isn't expected to debut until 2024 so, despite the glowing remarks from the Rockies front office, there's still plenty of time before we see exactly what he can do at the Major League level.
So let's talk rebuild and let's talk about one of the key quotes about rebuilding that came from Rockies owner Dick Monfort after the conclusion of the 2019 season, which saw the Rockies finish with a 71-91 mark.
""I haven't seen many rebuilds that start with signing the face of your franchise, your best player, to an (eight-year) $260 million contract," Monfort told me and other members of the media that day inside the Coors Field club level boxes."When some teams don't play good over a long period of time, they choose to do a (rebuild), but our goal is to play better and to win," he added. "I also hear — what is the phrase? 'You have a window of time' — I think we have a huge window of time.""
The face of Colorado's franchise that Monfort was referring to was, of course, Arenado. The same player who was the face of the franchise was also just sent away in a trade that is being called by Sports Illustrated, "The Friday Night Heist."
More from Colorado Rockies News
When you lose the face of your franchise by means that you set into motion, you have no choice but to rebuild. When you very well could lose another All-Star player at the end of this season who is in the prime of his career (Trevor Story) because he won't sign a long-term contract to stay with your team, you have no choice but to rebuild.
The Rockies haven't played well for two seasons now. It's time to choose a path for a rebuild.
Call it a rebuild, reload, or whatever you want, but Colorado's plan now shifts from any thoughts of contention this season to how to get back to the level of success the franchise saw with back-to-back postseason appearances in 2017 and 2018 (right before Arenado inked his mega-contract).
Rebuilds often don't happen overnight, and this one at 20th and Blake won't either. While there is hope that Ryan McMahon can return to form this season, Raimel Tapia can continue making strides at the plate, and Antonio Senzatela can continue to be a pitcher who can solidify the middle of the rotation, the Rockies need more than that. It's going to take seeing what Brendan Rodgers can do with a full season of at-bats. It's going to take seeing what Ryan Rolison, Ben Bowden, Colton Welker, Michael Toglia, and others who are going to debut at various times over the next couple of years can add to the team … if they can. Nothing is certain in baseball.
It's going to take seeing if the Rockies can find someone to replace David Dahl, the All-Star outfielder who was non-tendered back in December. It's going to take seeing if the Rockies can find a long-term answer at the infield corners. There are a lot of "what ifs" and "what coulds" at play here with so many players. With that in mind, realize it's going to take time, so a rebuild to respectability isn't going to be a short road. To borrow a phrase, this is a marathon, not a sprint.
For those who say there's nothing to rebuild so there can't be a rebuild, I say look at a mostly homegrown rotation that has a chance to be solid in 2021 and a back end of the bullpen with Scott Oberg, Mychal Givens, Daniel Bard, and Yency Almonte who could as well. Look at the fact that, at the time of this writing, Story and Charlie Blackmon have now become the faces of the franchise, and both carry All-Star credentials. Should Story not re-sign, the Rockies should be among the most active in free agency next offseason.
Am I looking at things through rose-colored glasses with a tint of purple? Absolutely not, but I am also not looking at them through solid black lenses either. It's somewhere in between. And yes, I understand that a rebuild will come under the same leadership that has seen a contention window that had the Rockies and Dodgers playing Game 163 to determine the NL West title slam completely shut because of bad signings and alienating generational-level talent. That's absolutely a factor to consider on if and when a rebuild will come to fruition, as well as how successful it will be.
The Rockies have rebuilt, retooled, and reloaded for years. After Todd Helton. After Larry Walker. After the Blake Street Bombers. After Troy Tulowitzki. And yes, they will after Nolan Arenado as well. It's not going to be quick, and it's likely not going to be pretty at all at times, but the Rockies started the rebuild clock the minute the green light was given to send Arenado to St. Louis. Embrace it or reject it, but the R-word seemingly no one wants to say or acknowledge around 20th and Blake is happening right now … and it will likely be happening for some time to come.