Colorado Rockies fans missed an awesome part of Daniel Bard's season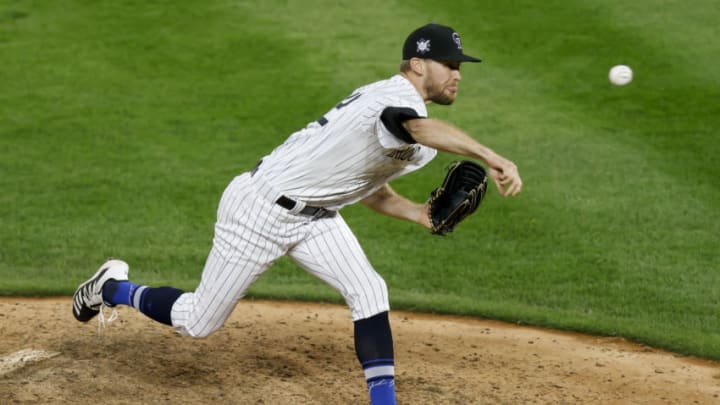 DENVER, CO - AUGUST 29: Relief pitcher Daniel Bard #52 of the Colorado Rockies delivers to home plate during the ninth inning against the San Diego Padres at Coors Field on August 29, 2020 in Denver, Colorado. All players are wearing #42 to honor Jackie Robinson. The Rockies defeated the Padres 4-3. (Photo by Justin Edmonds/Getty Images) /
With no one in the stands at Coors Field in 2020, Colorado Rockies fans missed a part of one of the feel-good moments of the season.
Congratulations are in order for Colorado Rockies relief pitcher Daniel Bard, who was officially named as the National League Comeback Player of the Year on Thursday. Bard shares the honor with the American League winner, Kansas City Royals catcher Salvador Perez.
On a side note, we started lobbying for Bard to win the honor back on September 14 as he was in the midst of a comeback campaign that saw him become the closer for the Rockies and finish 2020 with a 3.65 ERA and six saves in 24.2 innings of work.
Those numbers are impressive, but even more so when you consider that Bard was out of baseball for seven years because of the yips before the Rockies signed him to a minor league deal and started him back on his journey to a Major League Baseball mound. Bard was a flame-throwing force for the Boston Red Sox before he was forced from the mound after just two appearances in 2013. He came back for the Rockies older and wiser, and became a veteran voice for a bullpen that struggled mightily in 2020. And did it after not even being guaranteed a roster spot when spring training began.
More from Colorado Rockies News
While there is plenty that can be seen in the statistics, there was a big part of Bard's comeback that was witnessed by just cardboard cutouts at Coors Field. When Bard came into the game at 20th and Blake, "Alive" by Pearl Jam blared over the loudspeakers. With a chorus that repeats the sentence that "I'm still alive," it was an obvious reference to where Bard has been, as well as those who might have forgotten about him while he was away from the spotlight.
While it may not have had the adrenaline rush that Trevor Hoffman's "Hells Bells" might have had when he came into the contest, there was something that tugged at your heart when Bard's Pearl Jam lyrics were playing while he was warming up. It was a subtle nod that, yes, Bard was still alive. Sitting in the press box at Coors Field, there was something special about watching Bard throw while that song was playing and knowing where he had been and where he was.
And with his Comeback Player of the Year award in hand and a big role expected in the Rockies bullpen in 2021, Bard isn't just alive but he's also doing quite well.