Colorado Rockies: Jeff Bridich on 2021 bullpen possibilities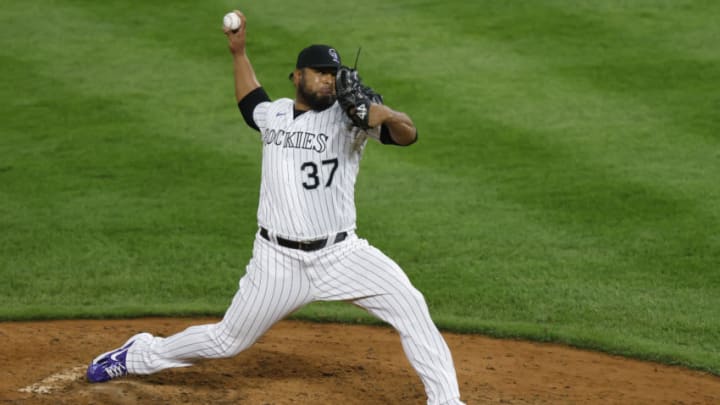 DENVER, CO - SEPTEMBER 01: Relief pitcher Jairo Diaz #37 of the Colorado Rockies delivers to home plate during the sixth inning against the San Francisco Giants at Coors Field on September 1, 2020 in Denver, Colorado. (Photo by Justin Edmonds/Getty Images) /
In a conference call with media Wednesday night, Colorado Rockies general manager Jeff Bridich discussed several offseason issues, including some potential key pieces of the 2021 bullpen.
Among the topics Bridich addressed were Colorado Rockies who received no tender offers for the 2021 season as well as a brief update on the recovery of standout third baseman Nolan Arenado, who battled a left shoulder injury during the 2020 pandemic-shortened campaign.
In addition, he elaborated on another issue that was near and dear to Colorado fans from this past season — a bullpen that collapsed as the season progressed and contributed to the Rockies stumbling to a 26-34 final record after the team bolted from the starting gate by winning 11 of its first 14 games.
While the Rox had two starting pitchers who ended 2020 with an earned run average under 4.00 (Antonio Senzatela at 3.44 and German Marquez at 3.75) and another starter who just missed a sub-4.00 ERA (Kyle Freeland at 4.33), the Rockies bullpen inflated the team's overall ERA to a final mark of 5.59 — dead last among the 15 NL teams in team ERA.
By comparison, the Los Angeles Dodgers had the top National League ERA at 3.02 on the way to becoming World Series champions.
More from Colorado Rockies News
One point of note about the 2020 Colorado pitching staff is that, of the 24 hurlers who recorded statistics a year ago, 21 were right-handers.
Freeland, along with relievers Phillip Diehl and James Pazos, were the only left-handers on last year's squad.
Diehl and Pazos each appeared in just six games last season and combined for only 11.1 innings of mound duty (Diehl 6.0, Pazos 5.1). Both ended with double-digit ERAs (Diehl 10.50, Pazos 16.88).
Diehl has just two years of MLB experience while Pazos (who elected in free agency in October) has only 155 games under his belt in six MLB seasons.
Does Bridich have plans to bolster the Rockies relief corps with more lefties while looking for some experienced relievers?
""It certainly is something that was missing from the team last year," the general manager said about the lack of left-handers in the team's bullpen."I think there is somebody in Ben Bowden who hopefully can take a step up. I think there is hope that Phillip Diehl will take a development step north. It certainly looks fair that that specific element of our team is on our mind. If there is a fit, and we feel like that it fits us and hopefully makes us better, then there is a chance we can take an opportunity there.""
Bridich also was asked about the decision to bring back Jairo Diaz after the reliever struggled for much of the 2020 campaign before ending up with a 7.65 ERA in 24 appearances (tied for second on the team with Yency Almonte and Tyler Kinley; Carlos Estevez topped relievers with 26 outings).
Diaz opened last season with three saves in the team's first 12 games to take over the closer role after Wade Davis faltered in that capacity to start 2020.
But Diaz's fourth and final save of the year did not come until the final week (Game 56) of the season. In the interim, the right-hander had a stretch of 19 games in which he allowed runs eight times. In seven of those eight contests, he was touched for multiple runs.
""He has been through so much," Bridich said of Diaz, who lost his wife to stomach cancer in 2017."What we have been through with him over the past few years in this organization. We have seen what he can do. He pitched so well for us in high-leverage innings in our pen in (20)19 and kind of showed what he can do. Last year, some was good and then he struggled for a while. I think you can say that about any of our guys last year. Like I said, it was such a strange year for a lot of people. It was such a condensed year for a lot of people."Sometimes you struggle a little bit, you have enough time during the season to pull yourself out of it and right the ship. That just didn't exist last year. But we have seen a lot of good from Jairo and we know what he is about. We believe that he can be an important part of a functional bullpen again.""
Stay tuned as the Rockies roster continues to take shape in the offseason.