Colorado Rockies: Head-shaking stats from a horrific season on the mound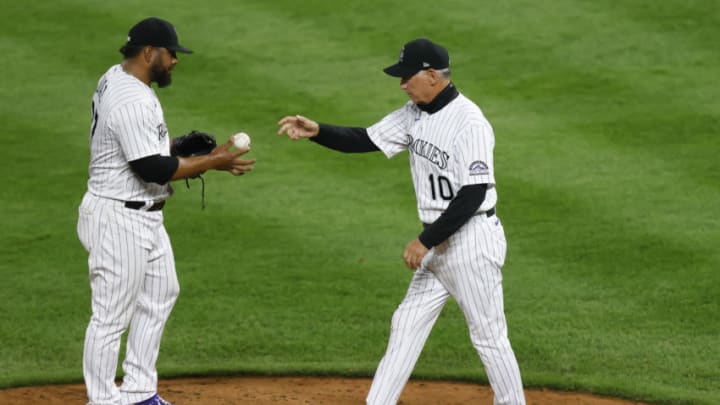 DENVER, CO - SEPTEMBER 01: Manager Bud Black #10 of the Colorado Rockies takes the baseball from Jairo Diaz #37 and removes him from the game after giving up seven earned runs in two-thirds of an inning of work against the San Francisco Giants at Coors Field on September 1, 2020 in Denver, Colorado. (Photo by Justin Edmonds/Getty Images) /
We all know the Colorado Rockies had a tough season on the mound in 2020. However, the end-of-season statistics show just how bad Colorado's pitching was in a shortened season.
Taking a look through the end-of-season statistics from the National League, it's pretty easy to see exactly why the Colorado Rockies didn't make the postseason, even in a year when the field was expanded to include more than half of the teams in each league.
Much of Colorado's lack of ability to maintain momentum after an 11-3 start fell on the shoulders of the pitchers. Certainly there were some success stories this season in pitchers like Antonio Senzatela, Kyle Freeland, and Daniel Bard. However, there were plenty of other pitchers who are hoping to forget 2020 (we're looking at you Wade Davis, Jairo Diaz, James Pazos, and plenty of others who threw more than their share of meatballs for the Rockies this past season).
Just how bad was the Colorado pitching overall? Statistics don't lie, and the Rockies finished last (or tied for last) in the National League in eight various categories. Here they are, along with the team that was chasing the Rockies for the bottom of the NL barrel.
ERA (5.59, next-worst was Philadelphia at 5.14)
Hits allowed (579, next-worst was Philadelphia at 550)
Runs allowed (353, next-worst was Philadelphia at 311)
Earned runs allowed (327, next-worst was Washington at 285)
Hit batters (40, next-worst was Pittsburgh at 37)
Strikeouts (393, next-lowest was Miami at 451)
Batting average against (.280, next-worst was Philadelphia at .279)
Holds (20, tied with Milwaukee for worst in the NL. Next after them were three other teams)
Additionally, there was one category where the Rockies finished next-to-last in the National League:
WHIP (1.49, only better than Washington's 1.52)
More from Colorado Rockies News
You'll notice that, of all of the teams listed above, only Milwaukee made the postseason (and that was as the eighth seed and was swept by the Dodgers in the opening round). There's a correlation to good pitching and good records, whether you're at sea level or a mile high.
There's no question that, if Colorado is to improve in 2021, it's going to have to happen in terms of upgraded pitching, whether that comes from free agents brought into the mix or last year's pitchers who struggled showing dramatic improvement in the offseason.
If Colorado goes outside the organization for help (as suggested in the article link above), while Colorado's recent "super bullpen" experiment may not have worked, the Rockies are still going to have to pay to find quality arms who can not only keep a lead when coming in from the bullpen, but also do it consistently.