9 must-see pieces of Colorado Rockies art from 2019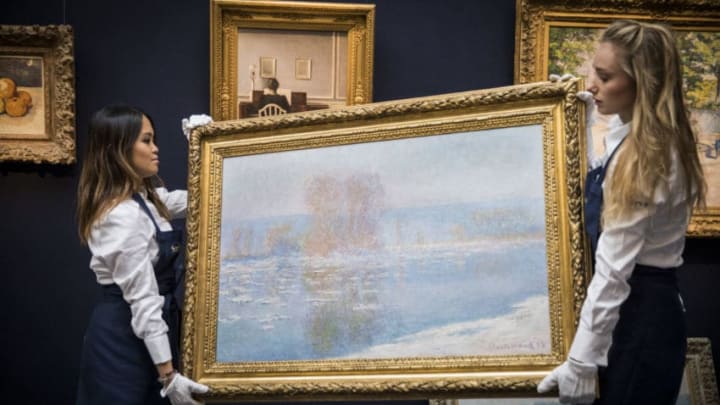 LONDON, ENGLAND - OCTOBER 06: Claude Monet's Les Glacons, Bennecourt (Estimate $18-25 million) goes on view as part of Sotheby's Contemporary Impressionist New York TRAVEX highlights preview at Sotheby's on October 6, 2017 in London, England. The Contemporary Art Evening Auction takes place at Sothebys New York on 16th November 2017. (Photo by Tristan Fewings/Getty Images for Sotheby's ) /
LONDON, ENGLAND – JUNE 14: Claude Monet's 'Nymphéas' (1908) Est: £25,000,000-35,000,000, which is to be sold as part of the Impressionist & Modern Art Evening Sale which takes place on the June 19, at Sotheby's on June 14, 2019 in London, England. (Photo by Chris J Ratcliffe/Getty Images for Sotheby's ) /
While my family was in the Denver area visiting for Christmas, we decided to take in the Claude Monet exhibit at the Denver Art Museum.
For what it's worth, the exhibit is amazing and well worth your time if you're in the Denver area and you can get tickets before its run ends on February 2, 2020. I am someone who has been infatuated with the Impressionism style of painting for many years and this collection of Monet's work was amazing and inspiring.
It was so inspiring, in fact, that I decided to get in touch with who I believe has evolved into the resident artist of Colorado Rockies Twitter, Austria's Niki Paumi. If you're not following him on Twitter, by the way, you're missing out.
More from Colorado Rockies News
With thoughts of great art in my head, I reached out to Niki to ask him which pieces of his unique style of work detailing the Colorado Rockies he was most proud of in 2019. He responded with an amazing collection that I thought I would share with you today.
In this article, art is described as, "any activity or product done by people with a communicative or aesthetic purpose — something that expresses an idea, an emotion or, more generally, a world view." Niki's idea certainly fits into that definition, in my humble art critic opinion.
So join me if you will as we raise the curtain on a different kind of art exhibit, a collection of creativity focused on Colorado's baseball team. There is no ticket or reservation required.