Colorado Rockies: Congress's statement over possible dissolution of MiLB teams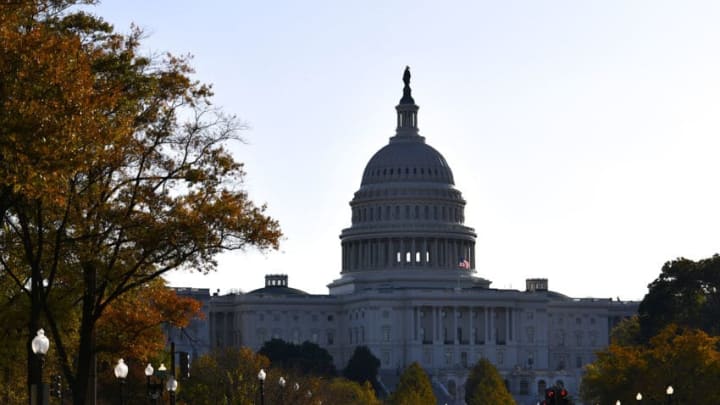 WASHINGTON, DC - NOVEMBER 13: Morning light illuminates an American flag flying at the U.S. Capitol Building on November 13, 2019 in Washington, DC. In the first public impeachment hearings in more than two decades, House Democrats are trying to build a case that President Donald Trump committed extortion, bribery or coercion by trying to enlist Ukraine to investigate his political rival in exchange for military aide and a White House meeting that Ukraine President Volodymyr Zelensky sought with Trump. (Photo by Mark Makela/Getty Images) /
It often seems like the two main political parties can't agree on anything but if you believe that, you would be wrong.
It's the one thing that provides people with a gateway to think about something else for a few hours. With the exception of which teams we root for, it is something that helps put our differences aside. That thing is baseball.
That is part of the sentiment that Congress delivered on Wednesday in response to the news that we reported on yesterday: potentially, Major League Baseball could be cutting 42 of Minor League Baseball's teams, including two Colorado Rockies affiliates and the entire Pioneer League, which has a quarter of its league in Colorado and all of it in the Mountain Time Zone.
Their letter was addressed to Commissioner Rob Manfred and it was little under a page in length but the signatures took up another dozen pages on their own because nearly a quarter of the House of Representatives (just over 100) signed the letter.
This is the letter in its entirety.
""Dear Commissioner Manfred,We are writing to express our firm opposition to Major League Baseball's radical proposal to eliminate numerous Minor League Baseball clubs. If enacted, it would undermine the health of the minor league system that undergirds talent development and encourages fan loyalty. It would particularly be felt in areas far from a major league team or where tickets to a major league game are cost-prohibitive.Tens of millions of fans attend Minor League Baseball games each season. These professional baseball clubs are vital components of our communities because they provide affordable, family-friendly entertainment to members of our communities, support scores of allied businesses, employ thousands of individuals, donate millions of dollars in charitable funds, and connect our communities to Major League Baseball. A number of these Minor League clubs operate at a lossbut continue to persist due to strong fan support and club ownerships' commitment to their communities and America's Pastime.The abandonment of Minor League clubs by Major League Baseball would devastate our communities, their bond purchasers, and other stakeholders affected by the potential loss of these clubs. We want you to fully understand the impact this could have not only on the communities we represent, but also on the long-term support that Congress has always afforded our national pastime on a wide variety of legislative initiatives.For over a century, Congress has taken numerous actions specifically designed to protect, preserve, and sustain a system and structure for both Major and Minor League Baseball toflourish.You are the most important steward of the great game of baseball and tasked with ensuring the popularity and love of it across the world. Reducing the number of Minor League Baseball clubs and overhauling a century-old system that has been consistently safeguarded by Congress is not in the best interest of the overall game of baseball, especially when Major League Baseball's revenues are at all-time highs.As members of Congress who recognize the tremendous value of the Minor League system, we ask Major League Baseball to strongly reconsider its proposed course with Minor LeagueBaseball and do all that it can to ensure the continuation of affliated baseball in our communities.""
It was then signed by 103 members of the House of Representatives, including Scott Tipton and Doug Lamborn, who are the representatives for Colorado's 3rd and 5th congressional districts, where Colorado's only two minor league teams, the Grand Junction Rockies (3rd district) and the Rocky Mountain Vibes (5th district), reside.
MLB's Deputy Commissioner Dan Halem responded back to representatives in a four-page memo. It read, in part:
""…we have identified more than 40 Minor League stadiums that do not possess adequate training facilities, medical facilities, locker rooms, and, in some cases, playing fields, to satisfy the requirements of our Clubs and players," Halem's response read. "MiLB has communicated to us that it is unrealistic for us to expect lower-level Minor League affiliates to meet our facility standards because of the costs involved in upgrading the facilities.""
More from Rox Pile
If Congress were to step in on the matter, it would not be the first time that the federal government had to mediate on something in Major League Baseball.
The most significant event in recent memory was the 1994-95 MLB Player's Strike, when then-President Bill Clinton appointed a federal mediator between the players and the owners. Later, numerous bills were presented to Congress starting in January 1995 to end the strike. In late January, Clinton ordered the two sides to come back to the table and come to a deal by February 6.
That came and past and after nearly having replacement players, after nearly two months after Clinton's deadline, and nearly eight months of being on strike, future-Supreme Court Justice Sonia Sotomayor, who was a U.S. District Court judge at the time, ruled in favor of the players and baseball came back, after an abbreviated Spring Training and having to cut 18 games off of 1995's slate after missing the last seven weeks of the 1994 regular season as well as all of the postseason and World Series.
Hopefully, this situation doesn't become as ugly as the 1994-95 strike was but it still does not look like all sides will be happy with whatever solution happens.