Two Colorado Rockies affiliates and Eight MiLB teams in the Mountain Time Zone could soon be a thing of the past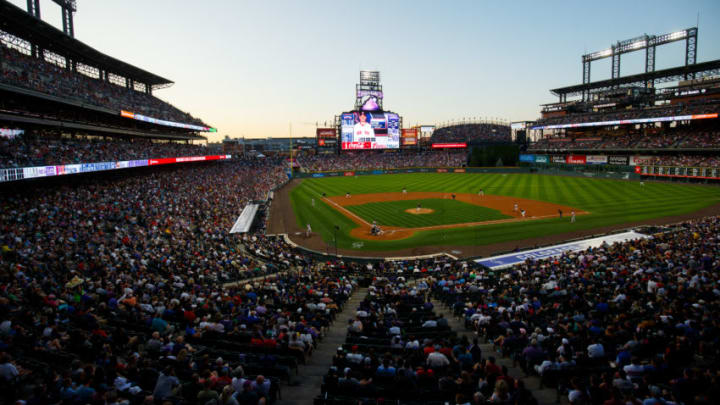 DENVER, CO - AUGUST 27: A general view of the stadium as the Boston Red Sox face the Colorado Rockies at Coors Field on August 27, 2019 in Denver, Colorado. (Photo by Justin Edmonds/Getty Images) /
The New York Times published the potential list of 42 teams that could be dissolved if Major League Baseball were to change the way Minor League Baseball would be run.
A few weeks ago, it was reported that Major League Baseball may soon be changing the way that Minor League Baseball could function by eliminating teams. Now, we know who teams could possibly be.
For the Colorado Rockies, two of the potential 42 teams that could be dissolved are their current minor league affiliates. They are the Advanced Single-A Lancaster JetHawks and their Advanced Rookie-ball affiliate, the Grand Junction Rockies.
Also among the 42 potential teams would be the entire Pioneer League. Including Grand Junction, other teams on the chopping block would include:
The Billings (Montana) Mustangs (Reds affiliate)
The Great Falls (Montana) Voyagers (White Sox affiliate)
The Idaho Falls Chukars (Royals affiliate)
The Missoula (Montana) Paddleheads (D'backs affiliate)
The Orem (Utah) Owlz (Angels affiliate)
The Rocky Mountain (Colorado Springs) Vibes (Brewers affiliate)
The Ogden (Utah) Raptors (Dodgers affiliate
More from Rox Pile
As you may notice, all eight of those teams are in the Mountain Time Zone. Currently, there are 11 minor league teams in the Mountain Time Zone so, essentially, Major League Baseball would be getting rid of 75 percent of them.
The remaining teams would be:
The Boise Hawks (Rookie-level Rockies affiliate)
The Salt Lake Bees (Triple-A affiliate of the Angels)
The Albuquerque Isotopes (Triple-A affiliate of the Rockies)
The El Paso Chihuahuas (Triple-A affiliate of the Padres)
The Rockies are also the only MLB team that plays in the Mountain Time Zone (the D'Backs are in the Mountain Time Zone in the offseason and part of spring training but none of the regular season).
With around a quarter of minor league baseball potentially (and that is a keyword here) being dissolved and much of it being in the Rocky Mountain region, some people are not happy about it. As Robert Sanchez of 5280 Magazine noted in another tweet, the dissolution could prevent tens of thousands of kids from seeing baseball since the closest team would be hundreds of miles away, meaning they may never become fans of the sport.
It's something that will definitely come up again in the ensuing months but if it does happen the way it looks currently, it is something that MLB would have to definitely weigh the pros (less players means higher salaries for current MiLB players and better MiLB facilities) versus the cons (losing dozens of teams, loss of revenue, and losing thousands of fans).