Colorado Rockies: Chris Iannetta move tough but necessary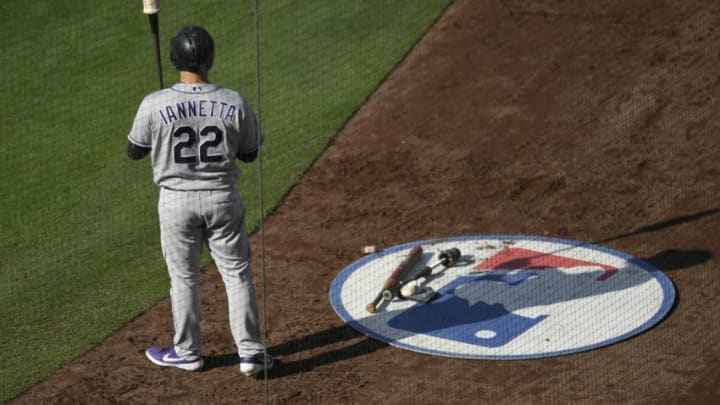 LOS ANGELES, CA - JUNE 22: Chris Iannetta #22 of the Colorado Rockies is on deck waiting for his at bat against the Los Angeles Dodgers in the third inning at Dodger Stadium on June 22, 2019 in Los Angeles, California. (Photo by John McCoy/Getty Images) /
Major League Baseball is a business. When you aren't performing up to standards and/or there is a younger player showing potential who could take your spot, there is no time for public thank yous or accolades. Such was the case on Tuesday with Colorado Rockies catcher Chris Iannetta.
It didn't matter that Chris Iannetta was the Colorado Rockies all-time franchise leader in games played (820) or games started (579) at catcher. It mattered that he was an aging veteran who had his two-year, $8.5 million contract ending at the conclusion of the season and prospect Dom Nunez has shown his potential readiness to make his Major League debut.
The 36-year-old Iannetta is also the all-time franchise leader among catchers in runs scored (252), hits (435), home runs (80), RBI (293) and walks (309). All of that was logged over parts of eight seasons (2006-11, 2018-19) with the Rockies.
More from Colorado Rockies News
Absolutely, there is plenty of history between Iannetta and the Rockies. However, time marches on and, like Mark Reynolds, Mike Dunn and Chris Rusin before him this season, when Iannetta wasn't performing at a high level, the Rockies designated him for assignment.
Among the issues surfacing with Iannetta this season were issues at the plate (strikeout rate went up from 24.2 percent in 2018 to 32.9 percent this season as well as a career-low 67 percent contact on swings) and behind the plate (just 12 of 67 base stealers thrown out over the last two seasons and plays like where his foot wasn't on home plate and the winning run scored on a sacrifice fly in an 18-inning April loss in San Francisco).
""It was a hard decision, but in baseball sometimes you've got to make tough calls," Rockies manager Bud Black said. "We're proud of what Chris has done for the organization, and coming back last year to be a part of our playoff team."Moving forward, we just felt like with where Chris was, where the season is and what we have going on here these last seven weeks, it was time to see what Dom could do here and get him some big-league exposure.""
As has been discussed, with Colorado's season virtually over and no playoff appearance to push toward, it's time to see exactly what the future of this franchise will hold. Is Yonathan Daza part of the equation for 2020 and beyond? How about Nunez? How about a number of other Rockies prospects? This is the time to see their Major League mettle.
Walking around the Colorado clubhouse today, many players believe Iannetta's playing career isn't over. It's certainly possible that another team will take a flyer on Iannetta and his veteran experience.
His playing career may or may not be over, but there's no question that Iannetta's days in Colorado are done. He did plenty for the franchise but it's time for the Rockies to see what the future holds. And that doesn't include Iannetta.