Colorado Rockies: Daniel Murphy a catalyst for the turnaround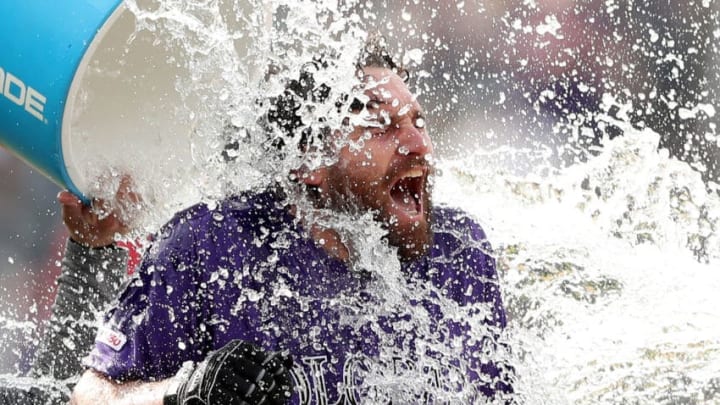 DENVER, COLORADO - MAY 30: Daniel Murphy #9 of the Colorado Rockies is doused with water by Tony Wolters #14 after hitting a RBI walk off single in the tenth inning against the Arizona Diamondbacks at Coors Field on May 30, 2019 in Denver, Colorado. (Photo by Matthew Stockman/Getty Images) /
Way back on May 19, the Colorado Rockies lost to the Philadelphia Phillies 7-5, dropping their record to 20-25. That loss put them in a tie for last place in the National League West with the San Francisco Giants.
Since that day, the Colorado Rockies have played excellent baseball. Winning 16 of the last 23 games, they have climbed into a tie for second in the West and are sitting two games out of the Wild Card.
For the early part of the season, perennial All-Star candidates Nolan Arenado, Charlie Blackmon and Trevor Story had been carrying the Rockies on their backs. A game's outcome was essentially determined by the performance of these three players. It got to the point where one of the national narratives was that the Rockies roster was full of "stars and scrubs."
More from Colorado Rockies News
The turnaround over the last month has been because those so-called "scrubs" have finally started to contribute on a daily basis. Leading the way has been the Rockies' lone big offseason free-agent signing, Daniel Murphy.
Back on May 19, Murphy was still struggling from a broken finger after rushing back from the injured list with a broken finger that occurred in the second game of the season. After going 0-for-4 with three strikeouts that day, his splits had dropped to a pathetic .171/.244/.329.
However, during the Rockies' recent 16-7 stretch, Murphy has exploded, going 30-for-79 with three home runs, 21 RBI, and seven runs scored, including a huge walk-off single in the 10th against the Arizona Diamondbacks on May 30. Murphy's fantastic play has given the Rockies much-needed protection behind Arenado in the lineup and raised his splits to a much more eye-pleasing .282/.333/.477.
Murphy has also provided solid defense at first base for a player not known for his defensive prowess. Considering that he has played the majority of his career at second, he has only committed five errors and has avoided any major gaffes in 40 games at first.
For the first month and a half of the season, the Rockies were desperately seeking contributions from someone other than Arenado, Blackmon and Story. Now that they are finally getting that contribution, especially from Daniel Murphy, it comes as no surprise that they are winning.