Colorado Rockies morning after: Speed makes the difference on Friday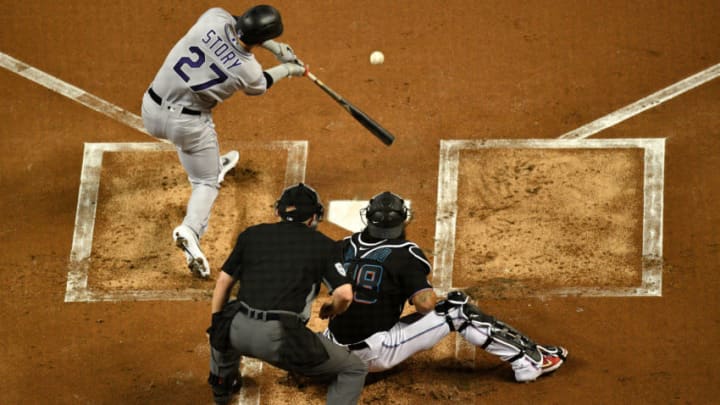 MIAMI, FL - MARCH 29: Trevor Story #27 of the Colorado Rockies at bat in the first inning during the game against the Miami Marlins at Marlins Park on March 29, 2019 in Miami, Florida. (Photo by Mark Brown/Getty Images) /
MIAMI — Taking a cue from some scenes of "The Fast and The Furious" franchise that have been shot in Miami, the Colorado Rockies did their own destruction using speed on Friday night inside Marlins Park.
Trevor Story raced home from first base on a David Dahl double in the sixth inning to tie the game and Ian Desmond chased down and snagged what looked to be a tying home run in the eighth. Yes, two of the fastest Colorado Rockies made a big impact and helped Colorado stay perfect on the young season with a 6-1 win over the Miami Marlins on Friday night.
Clocked in the top 20 in sprint speed among Major League Baseball players, Story showed little hesitation on Dahl's two-out double in the sixth. Getting the sign from Rockies third base coach Stu Cole to race home, Story slid under Garrett Cooper's throw to the plate to knot the game at 1-1.
""Right off the bat, Trevor was running," Colorado manager Bud Black said after the game. "Stu made a great call to send him. Their outfielder looked a little hesitant on where to throw it. Am I going to throw it to second or to the cut man? By that time, it was too late."That's why we run the bases hard. We talk about being aggressive. You can't take anything for granted so you push it on the bases all of the time. On that play, it paid off for us.""
Later, with the Rockies clinging to a 2-1 edge, Desmond used his speed to make one of the best catches of not only the young season but also of his career.
""I had a pretty good bead on it. I put my head down, went back and looked back up. I had to adjust a touch. It was just one of those plays where it was like, 'Hey man, you gotta go,'" Desmond recalled after the game. "In that moment, it's about going to get it and giving it all you got.""
More from Colorado Rockies News
Desmond said he also knew it would help his pitcher, DJ Johnson, who was making his season debut after making his first-ever Opening Day squad.
""The story of DJ making his first Opening Day and making the team, it was a big moment for him. I was glad I was able to help him out," Desmond said."
Ryan McMahon saw the play unfold from his second base position and beamed about it after the game.
""I was so stoked. I had never something that cool live before," McMahon said. "I'm sure everyone saw Lorenzo Cain's catch (on Opening Day against St. Louis to help preserve a Milwaukee win). But to see it live by your teammate during your game? That's cool.""
Of course, the win wouldn't have happened without another dominating performance from German Marquez. It was the second straight night that Colorado's starter had been lights out on the mound. Following Kyle Freeland's Opening Day mastery, Marquez went six innings and allowed just two hits, including a solo homer to Curtis Granderson. The ageless leadoff hitter drew two walks from Marquez in addition to his blast, the only Marlins batter to make Marquez look human.
How dominating was the Freeland-Marquez duo to open the season? It was only the second time in Rockies history that two starters had posted consecutive quality starts and allowed two or less hits (with Franklin Morales and Aaron Cook turning the feat in 2008). It was also the third time in Major League history it's been done in the first two games of the season.
Tyler Anderson takes the mound for the Rockies on Saturday night against Miami's Pablo Lopez.