Colorado Rockies seemingly content with status quo at catcher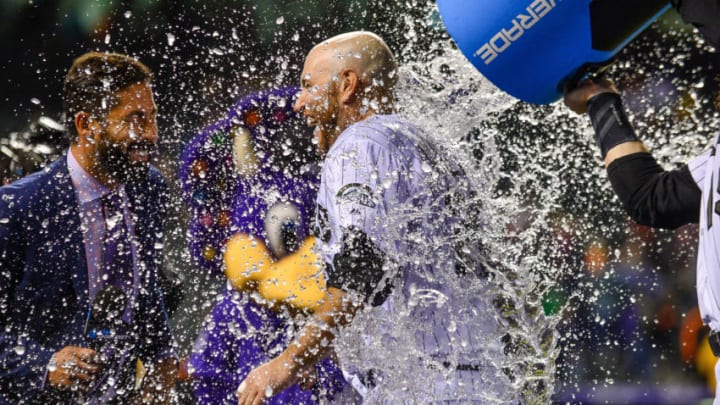 DENVER, CO - MAY 28: Chris Iannetta #22 of the Colorado Rockies receives an ice bath from Charlie Blackmon #19 of the Colorado Rockies after hitting a 10th inning walk-off single against the San Francisco Giants at Coors Field on May 28, 2018 in Denver, Colorado. (Photo by Dustin Bradford/Getty Images) /
It is a question that, at this point in the offseason, is worth asking: What if the Colorado Rockies do nothing else to improve behind the plate before the 2019 season begins?
Last season, relying mostly on Chris Iannetta and Tony Wolters at catcher, with a dash of Tom Murphy and Drew Butera sprinkled in, the Colorado Rockies nearly won their first National League West title. Also, we were reminded again on Saturday morning, thanks to this article from MLB.com, that Wolters made two of the most crucial plays for the Rockies last season.
Of course, we all remember the game-winning hit Wolters delivered in extra innings in the National League Wild Card Game against the Chicago Cubs at Wrigley Field. But how about this defensive gem (and heads-up play) that sealed a victory over the Los Angeles Dodgers at Chavez Ravine earlier in the season?
These are certainly bright moments from an otherwise dismal season behind the dish. Before getting the game-winning hit in Chicago on October 2, Wolters hadn't had a hit since September 10. He finished the year with a .170/.292/.286 slash line in his third (and worst statistically) Major League season. His 0.3 WAR, however, led Colorado catchers.
Iannetta, who will turn 36 on April 8, finished with a .224/.345/.385 slash line and -0.4 WAR. That includes hitting just .178 away from Coors Field. However, like Wolters, there were bright moments, including logging a .265/.438/.469 line in September and October as the Rockies secured their second consecutive playoff berth.
As of now, it looks as if Colorado will be depending on a platoon of Iannetta and Wolters again in 2019. Murphy's situation remains a bit clouded as he saw just 13 at-bats in August, September and October and the Rockies traded for Butera on August 31 and he slid into the third catcher role … ahead of Murphy.
Can Murphy finally find his swing? Will Wolters revert to the form of his rookie season? Can Iannetta once again be serviceable behind the plate entering his 14thbig league campaign? The Rockies, at the moment, seem to be betting on the answers to all of these questions being "yes."
But is that good enough for a team who has a legitimate shot at the division title again this season? It seems like it will be … for now.
More from Colorado Rockies News
The Rockies are not going to trade prospects for Miami catcher J.T. Relamuto. When it was reported that the New York Mets offered Yasmani Grandal $60 million over four years and he turned it down, that tells you everything you need to know about why the Rockies haven't pursued that relationship very far. The Mets, however, did sign Wilson Ramos to a two-year, $19 million deal. Could he have helped Colorado behind the plate? Absolutely … but likely not at that price.
If (and it is a huge if right now) the Rockies were to add a catcher, it would have to be an enormously good deal. Don't forget that Colorado signed Brett Nicholas, who has Major League experience, to a minor league deal back in November so he could be "the catcher to be added this offseason."
Could Colorado upgrade at catcher? Absolutely. Will they? The answer is very likely no. That's a fact that may frustrate Rockies fans … but it's the reality of the situation heading into 2019.