Colorado Rockies: How would you change Coors Field's dimensions?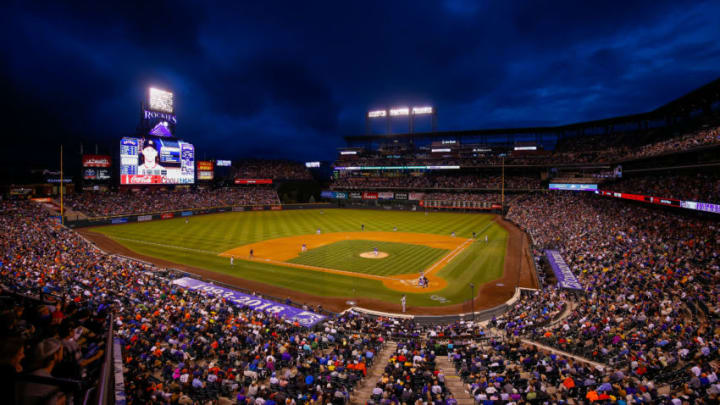 DENVER, CO - JULY 25: A general view of the stadium as the Colorado Rockies take on the Houston Astros during interleague play at Coors Field on July 25, 2018 in Denver, Colorado. The Rockies defeated the Astros 3-2. (Photo by Justin Edmonds/Getty Images) /
DENVER, CO – SEPTEMBER 5: Trevor Story #27 of the Colorado Rockies hits a home run off a pitch from Andrew Suarez #59 of the San Francisco Giants in the first inning on September 5, 2018 at Coors Field in Denver, Colorado. (Photo by Julio Aguilar/Getty Images) /
No. 2 … This is never going to happen but the visual is terrific.
No fence in centerfield.
Okay, already acknowledged, it's not going to happen but imagine a Matt Kemp type hits a ball 430 to dead center it bounces into the pond/fountains and Charlie Blackmon has to jump in, fish out the ball then throw a soggy ball to the cutoff man.
The Rockies might actually want to keep Chuck in center in this circumstance given that he's an avid fisherman.
This isn't as crazy as the initial thought though. And you could even extend this idea to not just center field but opening up the bullpens and the wall would essentially be the giant concrete slab that holds up the concourse.
At old Yankee Stadium before their renovation in the 1970s, Monument Park (the team's museum) was in play in dead center field. As was a flagpole like the one in Houston until they recently removed their center field hill. The Rockies would essentially be playing off this idea and turning an historical park into an actual natural park. What's more Colorado than that?
More from Colorado Rockies News
As for the bullpens?
Think about old Polo Grounds which hosted the New York Giants and briefly the Yankees, Mets and the football Giants and Jets. Because it was originally built for Polo, upon the first construction it was shaped like a bathtub. The dimensions for this upper manhattan stadium was Left Field: 279 ft, Left-Center: 450 ft, Center Field: 483 ft, Right-Center: 449 ft and Right Field: 258 ft. What's interesting here are the power alleys because they're about 75 feet further than any in baseball now and it's because the bullpens were placed deep into the power alleys and bumping back to nearly 500 feet away from the plate — all in play, mind you — in center field.
But wait there's more.
The wall in center was 60 feet hight and included the Giants clubhouse windows which were in play.
And yet there's still more.
The Eddie Grant Memorial Plaque, which was about 470 feet from home plate and 5 feet high in dead center was also in play. Grant was the first MLB player to die in World War I.
So when Willie Mays made that incredible catch in center at Polo Grounds, he also had to deal with all of that which is described above. You're also probably thinking, "Say hey, did anyone ever hit one out?" And of course the answer is Babe Ruth, who once hit one an estimated 550 feet. Ruth hit 714 home runs in his career and 85 came at Polo Grounds, more than any stadium other than Yankee. What's funniest about this is that Ruth didn't hit a regular season home run at Polo Grounds after 1922 and played until 1935 because inter-league play didn't exist yet.
The Rockies could push back center and make the bullpens in play and still have a pretty home run-friendly park.