Colorado Rockies: Prospects off to strong Arizona Fall League start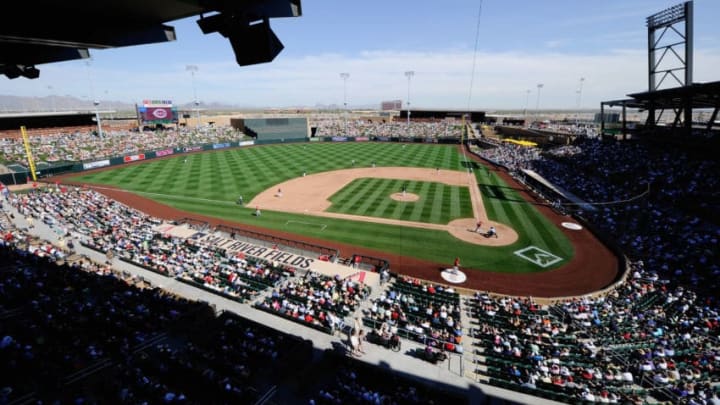 SCOTTSDALE, AZ - MARCH 14: Fans follow the action on the baseball diamond between the Cincinnati Reds and the Colorodo Rockis during the spring training baseball game at Salt River Fields at Talking Stick on March 14, 2011 in Scottsdale, Arizona. (Photo by Kevork Djansezian/Getty Images) /
The next generation of Colorado Rockies is making their presence felt quickly in the early days of the 2018 Arizona Fall League slate.
The Colorado Rockies are one of five teams sending prospects to be a part of the Salt River Rafters, a team in the AFL's Eastern Division that plays its games at Salt River Fields at Talking Stick. The Arizona Diamondbacks are another team contributing to Salt River's roster, a logical thought since Arizona and Colorado share Salt River Fields as their spring training headquarters.
Representing the Rockies for Salt River are pitchers Ryan Castellani and Jesus Tinoco, along with outfielder Sam Hilliard and infielders Josh Fuentes and Tyler Nevin.
Fuentes has started strong, not a surprise for the MVP of the Pacific Coast League. One of just three Salt River players to see action in the first two games of the campaign, the 25-year-old Fuentes is 3-for-9 with two RBI in early action. Of his three hits, he has logged a single, double and triple.
More from Colorado Rockies News
In his lone game this season, Hilliard made a quick impact, going 3-for-5, including a triple, and scoring two runs in Salt River's 10-8 win at Surprise. Batting third in the order (just behind Fuentes), Hilliard's triple led off the ninth and provided an insurance run for the Rafters.
Nevin is 1-for-4 in his lone appearance of the season.
Castellani started the season opener against Surprise and was roughed up quickly, giving up four hits and three runs in three innings pitched. He walked one batter and struck out three.
Tinoco has had one relief appearance, throwing two scoreless innings and surrendering just one hit against Surprise. Replacing Castellani, Tinoco threw the only consecutive shutout innings of the day for the Rafters.
Play continues in the AFL until November 17 when the championship game is scheduled for 1:08 p.m. (local time) at Scottsdale Stadium.