Colorado Rockies: Hey fans, act like the Rockies are in first place!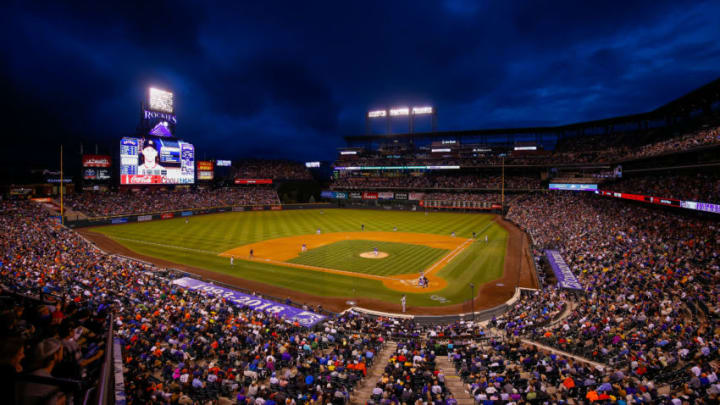 DENVER, CO - JULY 25: A general view of the stadium as the Colorado Rockies take on the Houston Astros during interleague play at Coors Field on July 25, 2018 in Denver, Colorado. The Rockies defeated the Astros 3-2. (Photo by Justin Edmonds/Getty Images) /
I hate to say it … but I am ashamed of the fans of the Colorado Rockies the last three nights. That's right, I am calling all of you out.
I understand that the Denver Broncos are back in action but, if you haven't noticed, the Colorado Rockies are in the middle of a pennant race and they really could use your help. The Rockies are in first place in the National League West by the slimmest of margins but, despite chasing their first-ever division title, the crowds have been sparse.
The Arizona Diamondbacks came into town on Monday night trailing the Rockies in the standings by 2.5 games but the announced attendance for the game was only 25,114. What was going on in Denver that was more important than the Rockies? It's not like the two Monday Night Football games for the first week of the season were anything special and the Broncos played the day before.
Tuesday night, the announced attendance was 26,510. Seriously?!? There isn't anything that is must-see TV on a Tuesday night and a school night is not an excuse for a 6:40 (local) start time. The Rockies really could have used your help in the 6-3 loss because that game could have gone either way.
More from Colorado Rockies News
Then, on Wednesday night, a little better 31,687 showed up to watch DJ LeMahieu blow the roof off the joint with his walk-off homer (don't you wish you were there?). That means only 83,311 fans were in attendance for the first three games of an all-important series. That's ridiculous.
Our Tyson Crocker wrote an article last week on how to increase MLB attendance … but there something to be said when fans aren't packing the stadium for big games like these.
Coors Field has a capacity of 46,897. If that place isn't sold out for the final homestand of the season starting September 24, with playoffs on the line, then shame on you.
I live in Omaha, so unfortunately I can't be there, but those of you who live in the Denver metro area and don't get your butts in those seats, that is pathetic.
Get your kids' homework done early and get yourselves out to the ballgame. The Rockies have a division title to win and they are going to need all of your help to do it.