Colorado Rockies vs. San Francisco Giants: Weather updates from Coors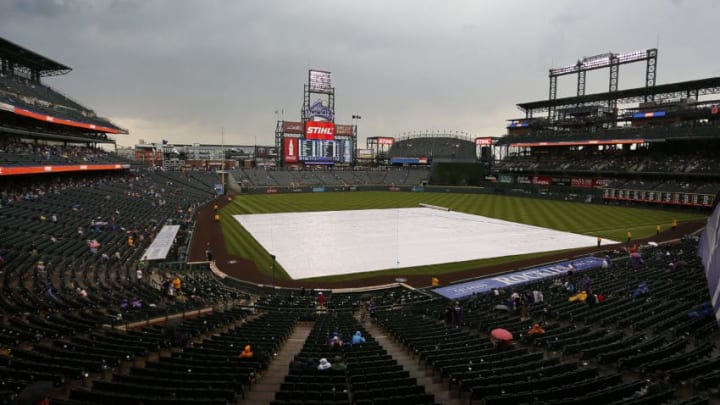 DENVER, CO - SEPTEMBER 17: The tarp sits on the field during a rain delay in the fifth inning of a regular season MLB game between the Colorado Rockies and the visiting San Diego Padres at Coors Field on September 17, 2017 in Denver, Colorado. (Photo by Russell Lansford/Getty Images) /
As the Colorado Rockies prepare to go for a sweep against the San Francisco Giants on Wednesday night at Coors Field, weather may play an impact on the game.
The Colorado Rockies ground crew rolled out the tarp to cover Coors Field just before 3 p.m. (Mountain time) on Wednesday and the rain started falling in downtown Denver shortly after that. Chilly temps hovering in the 60s and a steady rain are giving Denver a fall feel in advance of the Rockies looking to increase their lead at the top of the National League West standings.
Antonio Senzatela (4-5, 4.88 ERA) is set to take the hill for the Rockies on Wednesday against San Francisco's Andrew Suarez (6-9, 4.19 ERA). Senzatela will be looking to help the Rockies win their seventh consecutive game against the Giants, including what would be six straight wins against San Francisco at Coors Field. Overall, the Giants have lost five of their last six games while Colorado is undefeated in September.
This is the last visit of 2018 to Denver for the Giants. Both teams are off tomorrow as a worst-case scenario.
More from Colorado Rockies News
Colorado enters Wednesday's play a season-high 14 games above .500 at 76-62. They are in the midst of a 23-game slate against National League West competition. That includes a 10-game homestand that the Rockies are currently in where they will face the Giants, Los Angeles Dodgers and Arizona Diamondbacks.
We will be updating the weather situation from Coors Field as the day and evening goes along. We are in the press box so we can provide accurate, up-to-the-minute information. Please hit refresh often as we will update this page at the bottom with the latest information. All times listed will be in Mountain time.
3:28 p.m. — Rain continues to steadily fall at Coors Field. The forecast calls for the rain to continue throughout the afternoon.
3:34 p.m. — A look at the radar from our friends at @RockiesWX.
3:39 p.m. — Rain has lightened up some. No sign of tarp moving with plenty of standing water on it.
4:05 p.m. — Skies are a little lighter but still plenty of thunder being heard.
4:26 p.m. — Rain has stopped but more is expected to move through the Denver area shortly.
4:53 p.m. — Steady rain has returned to Coors Field.
4:58 p.m. — An idea of some of the rain and hail coming down in the Denver area right now. Heavy rain coming down at Coors Field.
5:05 p.m. — This is from our own Jake Shapiro, commentary and a current look at 20th and Blake…
5:23 p.m. — Rain still coming down. Gray, gloomy skies overhead.
5:36 p.m. — Guess what? It's still raining. Light rain, but still rain.
More from Rox Pile
5:46 p.m. — Uh-oh. This radar loop doesn't look good.
5:51 p.m. — No official word on a delay but there has been no movement on the tarp.
6 p.m. — Light rain. A few fans have scooted into the seating areas but many are staying in the concourse under cover. Tarp still on field.
6:10 p.m. — Some movement from the grounds crew on the tarp. We'll see what this means. Still no word on a delay.
6:16 p.m. — We are officially in a weather delay. More details to come.
6:25 p.m. — Still no movement on the tarp. Radar shows plenty of rain in the Denver area with some expected to move toward Coors Field.
6:29 p.m. — Heavy rain is starting to fall again. Colors are being presented and kids are on the field to sing the national anthem. They're getting soaked.
6:37 p.m. — Plenty of rain still coming down as Prince's "Purple Rain" blares over the loudspeakers.
6:45 p.m. — Raining. People under cover. Tarp on the field. Rain delay music playing.
6:55 p.m. — No movement on the tarp. No news on a potential start time. Rain falling.
6:59 p.m. — First pitch is now estimated for 7:45 p.m.
7:03 p.m. — Tarp has been removed. Now will be clearing off the standing water that came off of it in the outfield.
7:28 p.m. — Players are warming up and the field is being prepared for play. Breaks are also showing in the clouds as the temperatures have dropped to 61 degrees.
7:43 p.m. — The umpires are on the field and it's almost game time.
7:52 p.m. — Game on. San Francisco scores the first run of the game to take an early 1-0 lead.