Colorado Rockies vs. San Diego Padres: Weather updates from Coors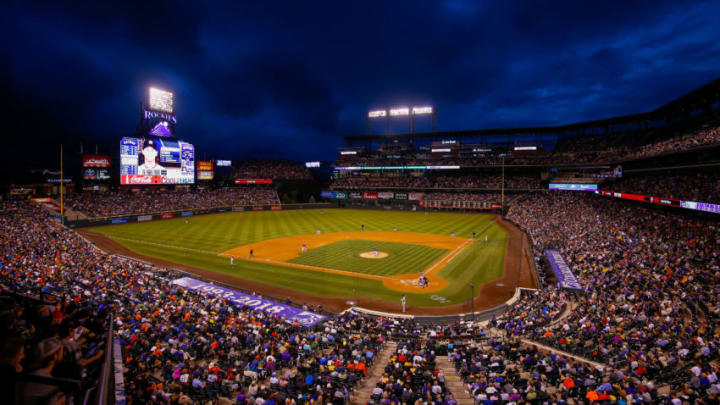 DENVER, CO - JULY 25: A general view of the stadium as the Colorado Rockies take on the Houston Astros during interleague play at Coors Field on July 25, 2018 in Denver, Colorado. The Rockies defeated the Astros 3-2. (Photo by Justin Edmonds/Getty Images) /
DENVER—The Colorado Rockies start a critical series with the San Diego Padres on Tuesday night. With the Denver Nine vying for first-place in the National League West for the first time ever and being winners of eight-of-their-last-nine, it's like a Rolex in the Rockys, it just won't stop!
Unfortunately the weather did not get the same memo and there is rain in the forecast for downtown for most of the evening. There's a 60 percent chance of rain through six then more rain in the forecast from 9 p.m. to 10 p.m.
Pregame batting practice was cancelled and instead at 4 p.m. the tarp was on the diamond at Coors Field.
Tyler Anderson will get the ball whenever that will happen. As of now, first pitch is scheduled for 6.40 p.m.
Of course earlier in the year there were thunderstorms of a different kind when the Padres met the Rockies in Denver.
More from Colorado Rockies News
A brawl erupted behind Nolan Arenado's charging of the mound.
We are in the Coors Field press box and will keep this page updated with the latest weather delay information. Please keep refreshing the page for the latest information.
All times listed below will be in Mountain time (local time). We will keep you updated.
4:10 p.m. — No rain. Tarp is on the field. It was raining hard earlier around 2:30 p.m.
4:45 p.m. — Rain coming down at Coors Field.
4:48 p.m. — Here is the latest update from our friends at @RockiesWX…
5:03 p.m. — Currently misting at Coors Field. Very cloudy with the tarp on the field and quite a bit of water on it.
5:11 p.m. — Here's the latest update from our friends at @RockiesWX…
6:04 p.m. — Sun is beginning to peek through in LoDo. Still not officially in any kind of delay. Start time scheduled for 6:40 p.m.
6:11 p.m. — Tarp is off the field.
6:15 p.m. — Looks like first pitch will be on time … but don't be surprised if the rain returns later in the game as our friends from @RockiesWX said above.