Colorado Rockies: Here comes another grueling stretch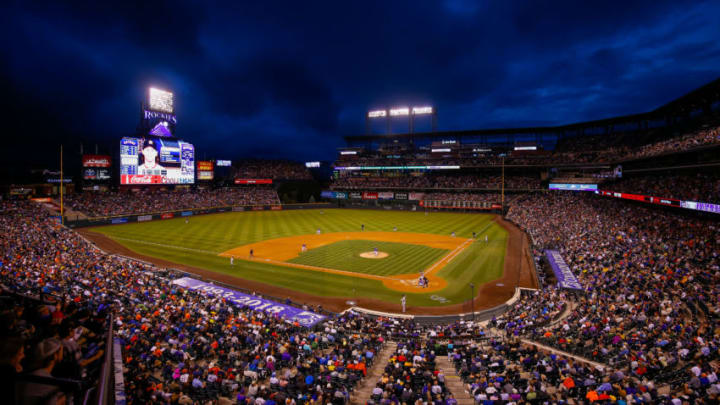 DENVER, CO - JULY 25: A general view of the stadium as the Colorado Rockies take on the Houston Astros during interleague play at Coors Field on July 25, 2018 in Denver, Colorado. The Rockies defeated the Astros 3-2. (Photo by Justin Edmonds/Getty Images) /
This is beginning to sound like a broken record. A couple of weeks ago, I wrote about this topic but, once again, the Colorado Rockies enter another grueling juncture in the schedule. This time, they play 17 games in, you guessed it, 17 days. Didn't the Major League Baseball Players Association agree to extra off days in the schedule to avoid this problem this past offseason? But I digress.
Of course, being in the middle of a playoff race with 61 games left in the season, every stretch is crucial for the Colorado Rockies, but this one seems to be just as significant … if not more than the last.
The breakdown of the next 17 games look like this: 10 homes games, seven road, three interleague games, no opponents under .500, opponents combined winning percentage .541 (as of Thursday, a combined 42 games over .500), and only four games within the National League West division.
It says a lot when the easiest portion of this stretch includes a four-game series at the currently .500 St. Louis Cardinals and a three-game set at Coors against the surging Pittsburgh Pirates, who are coming off a recent 11-game winning streak.
The 17 straight games finally concludes with an all-important four-game series against the West division-leading Dodgers.
The Rockies did have the luxury of the Thursday off day yesterday, allowing time to make the all-important rotation decision, which our Jake Shapiro wrote about, until after this weekend. This allows the Rockies to continue carrying an extra bat on the bench for a few more days and not be forced to make multiple roster moves with the finalization of the Seunghwan Oh trade.
More from Colorado Rockies News
If they can some how finish above .500 in the 17 games considering their opponents and having zero days off, it would be a success.
The road to Rocktober is going to be rough. With 51 of 61 games against teams with at least a .500 record and 30 games left within the West, these 17 games are just the tip of the iceberg. So it's time for the Rockies to bare down and get past this tough stretch before the next one starts in September when they play 19 games in a row … all against NL West foes in the Giants, Diamondbacks, and Dodgers. I'm sure I will have something to say about that when the time comes.
One final note: I took a little heat on some of the message boards for my recent apology to Ian Desmond. Most of it revolved around his defense … or lack thereof. Right on cue, Desmond committed an error that led to a run on Wednesday night and then bobbled another grounder that may have turned into an inning-ending double play.
For the record, I never stated that he was a good defender at first base. He has become adequate enough to have gained the trust from the other infielders, but he is definitely still a work in progress. I also stated that I reserve the right to resume criticizing him if the reverts back to his early season struggles so I hope this clears up some of the confusion.