Colorado Rockies vs. Houston Astros: Weather updates from Coors Field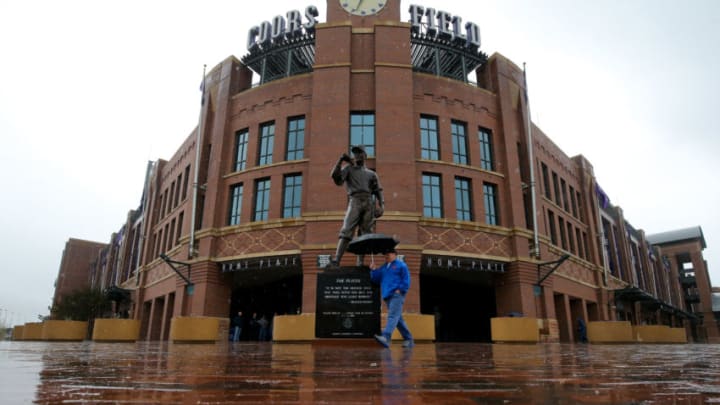 DENVER, CO - APRIL 26: A fan walks outside of Coors Field as the rain falls on April 26, 2015 in Denver, Colorado.The game between the San Francisco Giants and Colorado Rockies has been postponed due to rain. (Photo by Justin Edmonds/Getty Images) /
Once again, a game between the Colorado Rockies and the Houston Astros at Coors Field may not start at its scheduled time.
On Tuesday night, a severe thunderstorm warning was issued for the Denver area just before first pitch. A large thunderstorm was situated just south of the Coors Field area, home of the Colorado Rockies.
Now on Wednesday, the Denver area is under a severe thunderstorm watch and storms are expected to move across the area. Please scroll to the bottom of the article for the latest information and refresh often as we will be updating this article when conditions warrant on Wednesday.
NOTE: The information below is before Tuesday's game. Please scroll to below the black "next article box" for the latest information, including Wednesday updates.
When the Rockies and Astros do take the field, Tyler Anderson (6-3, 3.72 ERA) will oppose Houston's Gerrit Cole (10-2, 2.52 ERA). Colorado All-Star third baseman Nolan Arenado has fared well in his previous matchups against Cole, hitting at a .455 clip with a pair of homers in 11 at-bats.
More from Colorado Rockies News
Since June 19, the Rockies have put together a .704 winning percentage, going 19-8. They have won 12 of their last 15 games and 15 of their last 19 outings. They have won six consecutive series, all against teams who were at or above .500 when the series began. That's a good sign for the Rockies, who are facing winning teams in 16 of their remaining 20 series this season.
Colorado is 7-4 in interleague play so far this season, including a sweep of the Seattle Mariners at Coors Field heading into the All-Star break. Trevor Story capped the series sweep with a walk-off homer on Sunday, right before he left to participate in his first All-Star Game.
We are inside the Coors Field press box and will bring you the latest weather updates and information on the weather delay. Please keep refreshing this page for the latest information. All times listed are in Mountain time.
TUESDAY
6:36 p.m. — No official start time has been given after the delay was announced.
6:39 p.m. — The severe thunderstorm warning is expected to expire at 7:30 local time.
6:42 p.m. — No rain is coming down at Coors Field and the tarp is not on the field.
6:45 p.m. —
6:47 p.m. — Wind has picked up slightly but still no precipitation. Likely a precaution with a major storm in the area and lightning nearby.
6:51 p.m. — Looks like Coors Field dodged a bullet…
6:55 p.m. — Still no word on an official start time. Still no precipitation at Coors Field.
6:57 p.m. — First pitch now scheduled for 7:40 p.m.
7:05 p.m. — Still no players on the field but plenty of orange-clad fans in the stands. Houston will be well represented tonight.
7:08 p.m. — Colorado starter Tyler Anderson has taken the field and is starting to warm up.
7:13 p.m. — The grounds crew is working on the mound. Getting ready for play.
7:14 p.m. — Houston's Gerrit Cole just emerged from the dugout and is heading to the bullpen.
7:18 p.m. — Wow. Check out this thread. This isn't too far from Coors Field…
7:25 p.m. — Rockies wearing white pinstripes tonight while Astros will be in road gray uniforms. Field looks ready to go!
7:41 p.m. — Game on!
WEDNESDAY
2:52 p.m. — Our friends at @RockiesWX are telling fans to keep an eye on the sky…
3:48 p.m. — As the Rockies take batting practice, light rain has started to fall at Coors Field.
3:58 p.m. — Rain has stopped. That's the good news. More is coming. That's the bad news.
4:31 p.m. — Denver is under a severe thunderstorm watch and flash flood watch. Rain is expected.
4:55 p.m. — This is supposed to be the radar at 8:41 tonight. Hmmm….
5:14 p.m. — The Astros are taking batting practice under gray skies but no rain is falling at the moment.
5:47 p.m. — Grounds crews are preparing the field as blue skies are overhead at the moment.
5:58 p.m. — Sunny now but…
6:11 p.m. — Sun is still out. Starting pitchers are warming up. Still predicting rain but all is dry at the moment.
6:29 p.m. — Preparing for national anthem. Looks like game will start on time. Rain still predicted within the hour.
6:41 p.m. — Well…
7:13 p.m. — Big gust of cooler wind just hit Coors Field. Definitely something blowing in as skies darken and wind intensifies.
7:20 p.m. — Uh-oh…
7:29 p.m. — A flood advisory has been issued for Denver until 8:45 p.m. Storms are just north of Coors Field and heading this way.