Colorado Rockies: What you should know about "fireworks games"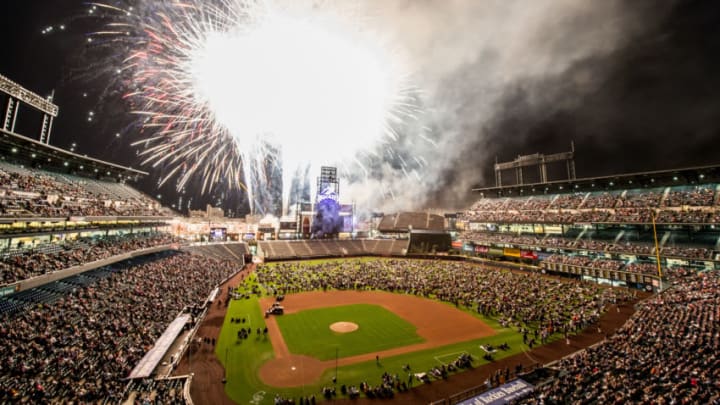 DENVER, CO - SEPTEMBER 20: The grand finale of a fireworks show are set over the field as spectators fill the outfield after a game between the Colorado Rockies and the Arizona Diamondbacks at Coors Field on September 20, 2013 in Denver, Colorado. The Rockies beat the Diamondbacks 9-4. (Photo by Dustin Bradford/Getty Images) /
The Colorado Rockies will play in front of some of their biggest crowds later this week, thanks in part to the fireworks that will light up the area around 20th and Blake after the games are over.
In 2018, the Rockies have designated July 3 and 4 (against the San Francisco Giants) and September 28 (against the Washington Nationals) as "fireworks games." Historically, any Rockies game featuring fireworks draws a sellout crowd and plenty of traffic after the fireworks have ended.
For some, these will be the only Rockies games they attend all season. The baseball game may indeed be secondary to the postgame fireworks. If this is you, don't worry. We have you covered.
I wrote an article last season about the best strategies for viewing fireworks at Coors Field. You can click here to read it and get some ideas about what to expect when the game ends and the fireworks begin.
More from Colorado Rockies News
There will be plenty of people at Coors Field for these games and there are plenty of options for what to eat when you visit the stadium. If you're looking for some of the best food choices, check out this article that can help narrow down your decisions on how best to fill your stomach.
If you're curious about parking information or what it might be like to get through the gates with security measures in place, click here and you can see what we discussed before Opening Day this season. You will want to be prepared before you head to the stadium and this article can help.
There will be plenty to see and do before the fireworks begin, so make sure you allow some time to get into downtown Denver. Make sure you're there for not only the postgame fireworks but also any on-field fireworks caused by the bats of Nolan Arenado, DJ LeMahieu or Charlie Blackmon.
Next: Check out this July 4-themed Rockies gear
Enjoy the games and make sure you're following @RoxPileFS on Twitter for the latest information. And speaking of Twitter, the Rockies put out a very handy guide that can help immensely…