Colorado Rockies: How Carlos Gonzalez rebuilt himself to vintage (again)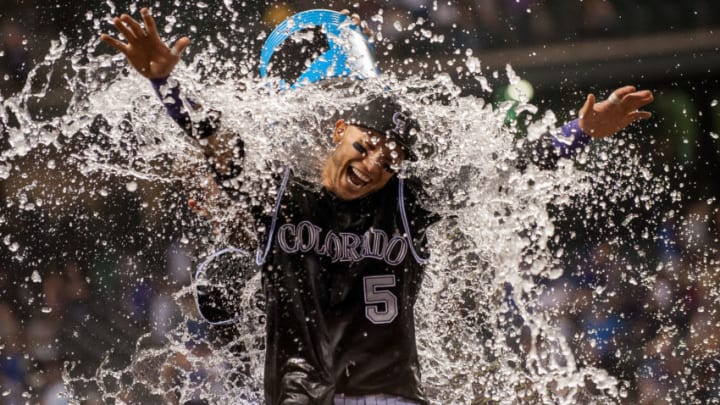 DENVER, CO - SEPTEMBER 26: Carlos Gonzalez #5 of the Colorado Rockies is drenched by a teammate after hitting a walk-off 2-run home run to put the Rockies ahead of the Dodgers 8-6 at Coors Field on September 26, 2015 in Denver, Colorado. (Photo by Dustin Bradford/Getty Images) /
DENVER – The sweet swing of Carlos Gonzalez of the Colorado Rockies, akin to Ken Griffey Jr., has been a sight for sore eyes along the Front Range for nearly a decade.
It appeared last year that this relationship was going to end. CarGo's contract was up and he was coming off his worst career year that was only semi-salvaged by a hot September. But the Rockies brought back the beloved Gonzalez on an incentivized deal. The right fielder struggled through April and underperformed in May.
Since May 27 though, CarGo has really heated up, slashing .357/.419/.560 in 22 games over 93 plate appearances. This can be credited to an adjustment he made in his batting stance and the way he was coiling on his load. Credit to our friends Ryan Spilborghs and Jeff Huson at AT&T Sports Rocky Mountain for pointing this out on a recent broadcast.
What they're pointing out is that CarGo is less open in his stance and he's not getting as directional with his bat positioning on his load. You can actually spot the difference in both how wide Gonzalez was if you look at his right leg and his coil. Look at how the bat is almost horizontal to the ground before the pitch in this April to June comparison.
One more thing in this video that's telling … watch his butt. In April, it was almost turning towards the pitcher like Luis Tiant but for a batter and now it's much more in line with the norm.
""Just be more square to the pitcher, "he told Rox Pile in an exclusive interview. "Whenever things aren't going the way you want, you have to keep searching and making adjustments.""
What doesn't tell the story here is exit velocity or launch angle. His average exit velocity over this stretch actually dropped slightly and his average launch angle dropped form 13.1° to 2.8°. Instead, there's another trend going on with launch angle. Breaking it down, he's hitting under the ball way less, as shown below. That's why his average launch angle has decreased.
More from Colorado Rockies News
But the reasons behind launch or velocity isn't the real story. That is because of plate coverage. Gonzalez is best when he's pulling the ball and, in order to pull pitches that are anywhere over the plate, he must get to the ball quicker. He can not be a successful hitter when his already long swing gets even longer. Instead, he is allowing his hands to get to the ball quicker and moving his feet closer to the point of contact allows for more plate coverage and for his bat head to be at a better angle of attack when entering the strike zone. Yes, he is less apt to launch the ball in the air but he is more importantly decreasing weak fly balls while increasing his ability to make hard contact on line drives.
CarGo has never been a flyable hitter. That's not his style. He is someone who crushes the ball hard. He's a hard hitter. When Gonzalez is at his best, his long swing is at its shortest with minimal coil, reaching the stirkezone quicker and giving him better plate coverage and more bat control.
""Baseball is a very complicated sport when it comest to hitting," Gonzalez said." Every at-bat is different. It's not like you're shooting a basketball and you get to repeat your mechanics. It's survival mode.""
Next: Rockies do the right thing by sending Bryan Shaw to the DL
Last year, it was sleep for CarGo. This season, it's foot and hand position. What is certain is that the 32-year-old continues to make adjustments and adapt to the game. It has kept him as serviceable big leaguer at the very least and, for now, he's back to his vintage self.