Colorado Rockies vs. Miami Marlins: Weather updates from Coors Field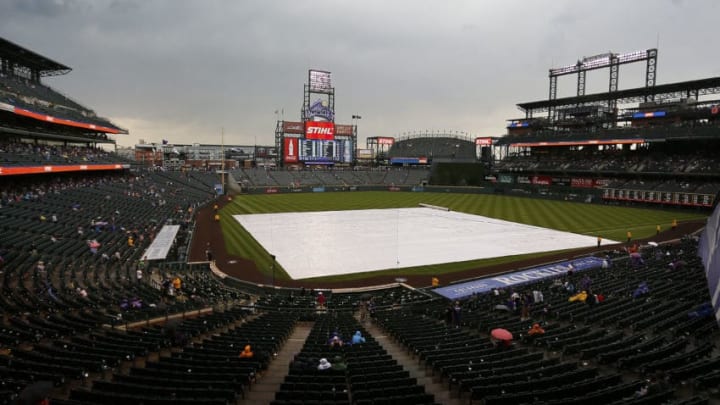 DENVER, CO - SEPTEMBER 17: The tarp sits on the field during a rain delay in the fifth inning of a regular season MLB game between the Colorado Rockies and the visiting San Diego Padres at Coors Field on September 17, 2017 in Denver, Colorado. (Photo by Russell Lansford/Getty Images) /
The start of third and final game of the weekend series between the Colorado Rockies and the Miami Marlins will be delayed by weather.
After splitting the first two games of the series, including Miami's 6-2 win on Saturday afternoon, there will be a delay to see who wins the set between the Marlins (30-47) and Rockies (38-39). Miami took two of three games from Colorado in south Florida in late April so a win for the Rockies on Sunday could even the season series.
Rain began in Denver around 11:30 a.m. (local time) and the tarp was pulled on the field while Colorado manager Bud Black was holding his pregame press conference. Radar shows rain throughout the Denver metro area so more could well be on the way.
When action does begin, German Marquez (5-7, 5.20 ERA) will be on the hill for the Rockies while Miami counters with Caleb Smith (5-6, 4.03 ERA).
J.T. Realmuto, who belted a grand slam in the seventh inning off Colorado reliever Bryan Shaw to push the Marlins to victory on Saturday, is batting third for Miami on Sunday. His .308 average leads the Miami starters while Justin Bour, batting cleanup, has a team-high 12 homers on the season.
More from Colorado Rockies News
Colorado will counter with a right-handed-dominated lineup against southpaw Smith. That includes Tom Murphy being behind the plate. Since his recent callup, Murphy continues to swing the bat well, posting a .344 average with six RBI.
The only lefties in the Colorado lineup on Sunday will be Charlie Blackmon (batting second) and Gerardo Parra (batting seventh). Parra continued his recent hot hitting by slamming his fourth homer of the season on Saturday afternoon.
We will continually be updating the weather and delay situation from the Coors Field press box so please hit refresh often to get the latest information. We will be posting the latest information at the bottom of the page. All times listed are in Mountain time.
Next: Could Colorado trade for one of New York's star pitchers?
12:45 p.m. — No rain at Coors Field at the moment but the tarp stays on the field. No word on when the game might start.
12:48 p.m. — They are showing the radar on the Jumbotron. Plenty of storms to the west and moving this way.
12:55 p.m. — Skies are getting darker at Coors Field. Still no rain … but it seems like it is heading this way. Check out the local radar.
1 p.m. — They have just cleared out the upper deck and Rockpile seating sections. Expecting a large amount of rain and wind to be here soon, along with lightning.
1:05 p.m. — Thunder and lightning as the sky gets darker and the rain starts to fall.
1:12 p.m. — Heavy rain, big thunder and lightning flashing. Not a good atmosphere for baseball.
1:15 p.m. — Hail coming down, along with heavy rain.
1:17 p.m. — This…
1:25 p.m. — For the moment, the worst seems to have passed. Still raining but not as hard. However, more rain is off to the west and seems to be moving this way. Still no word on if and when the game will begin.
1:30 p.m. — Skies are getting lighter and rain has slowed … but will it last? Radar says probably not.
1:34 p.m. — Fans are starting to trickle back to their seats. Wind has calmed down considerably. Still no update on timing.
1:36 p.m. — A bit of good news…
1:42 p.m. — A patch of blue sky past the scoreboard. Hope for some clearing! Grounds crew has come out and is removing sandbags from the tarp.
1:43 p.m. — First pitch coming at approximately 2:40 p.m. (Mountain).
1:50 p.m. — Much lighter at Coors Field behind the scoreboard. Dark skies off behind first base/left field.
1:58 p.m. — Tarp is being lifted.
2:17 p.m. — As always, ground crew doing an excellent job getting the field back in playing shape. Hats off to them for their hard work.
2:40 p.m. — Fire up the fountains! Game on!