Colorado Rockies: Making a move during an important homestand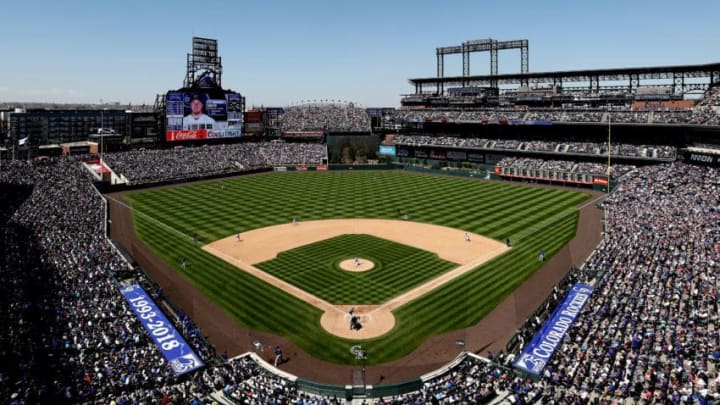 DENVER, CO - APRIL 22: The Colorado Rockies play the Chicago Cubs at Coors Field on April 22, 2018 in Denver, Colorado. (Photo by Matthew Stockman/Getty Images) /
Here we go. One way or another, it is time to make a move. Starting Friday, the Colorado Rockies begin a nine-game homestand sitting atop of the mediocre National League West at 26-24 with a half-game lead over the suddenly woeful Arizona Diamondbacks.
The Rockies are coming off their first losing road trip of the season and the second-guessers and naysayers are getting louder than ever. What started off as a promising trip ended in disaster as the Rockies managed to score only 14 runs in the final five games, losing four of the last five to end the West Coast swing at 4-5.
Now the Rockies return home where they need to make a move, either in the standings or, more importantly, on the roster. With the National League's worst team, the Cincinnati Reds, a Madison Bumgarner/Johnny Cueto-less Giants, and a Clayton Kershaw-less Dodgers coming to town, the Rockies need to take advantage of the next nine games and turn their 7-11 home record around.
The excuse that "this team is eventually going to hit" has gotten old and is long past due. If the Rockies don't start hitting now against the Reds, who have the second-worst team ERA in the National League, and take advantage of the injury-riddled staffs of the Giants and Dodgers, then this team never will.
More from Colorado Rockies News
The Rockies need to make the most of their time at Coors Field and go a minimum of 6-3. Anything less, it will be time for the Rockies to finally make some of the roster moves that they seem so reluctant to do.
I wont bore you with any more roster move suggestions. There are numerous articles on our site (including some of my own) and everywhere else that touch on this topic. If the Rockies don't start hitting on a consistent basis this homestand and continue wasting quality starts, it will finally be time for GM Jeff Bridich and Bud Black to finally pull the trigger on the roster.
Next: A look back at the best and worst of Colorado's recent first-round draft picks
It's crazy to suggest that it is make or break time 50 games into the season … but the division is there for the taking and the Rockies need to make a move. Whether it is in the win column and/or on the roster, moves need to be made in the next 10 days or dreams of Rocktober in 2018 may disappear.