Colorado Rockies not a part of Game of Thrones-MLB 2018 promotion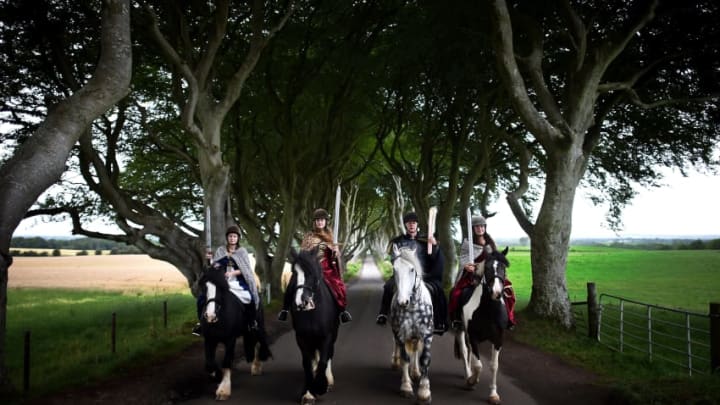 ANTRIM, NORTHERN IRELAND - AUGUST 29: Four actors on horseback dressed in Game of Thrones related costumes carry the Queen's Baton as they make their way way along the Dark Hedges on August 29, 2017 in Antrim, Northern Ireland. The Dark Hedges near Stranocum in County Antrim featured as the King's Road in season two of Game of Thrones and has become a tourist mecca for fans of the television series along with other filming locations in the province. The Queen's Baton Relay is currently on a tour of the United Kingdom as it makes its way around Europe in preparation for the 2018 Commonwealth Games in Australia. (Photo by Charles McQuillan/Getty Images) /
Once again, Major League Baseball and Game of Thrones, HBO's hit series, are teaming up in 2018 to provide some interesting themed evenings at stadiums across the United States. However, the Colorado Rockies will apparently once again not be participating in the event.
As we reported last year, the Rockies were not involved with any GoT promotional activities in 2017 and it appears that the same will hold true this season. When Major League Baseball started pushing out its initial promotion of the upcoming 2018 events, the Rockies were not among the 18 teams listed who would be participating.
In the National League West, only the Arizona Diamondbacks and San Francisco Giants will take part in the GoT festivities. Giants manager Bruce Bochy had fun with the event, doing a postgame press conference last season while sitting on the Iron Throne.
While the Rockies may not be a part of the GoT promotion, you can still check out the very cool video that Major League Baseball and the hit series teamed up to create.
More from Colorado Rockies News
Game of Thrones is scheduled to start its final season in 2019. However, the series is already ramping up promotion by scheduling these nights once again during the 2018 season.
But don't despair Rockies fans. There are still plenty of cool promotions for you to witness in 2018. Starting with the home Opening Day weekend against the Atlanta Braves, the Rockies will be giving away rally towels, a 25th anniversary season magnet schedule and a Charlie Blackmon NL Batting Champion Bobblehead.
Personally, I'm looking forward to the June 23 game against the Miami Marlins when the first 15,000 fans coming into Coors Field will get a 25th anniversary throwback replica jersey.
Next: 10 must-have Rockies items for any fan
Want to see what other promotions the Rockies already have planned for 2018? Just click here and see what giveaways interest you.