Purple Monday: Categorizing the Colorado Rockies Bullpen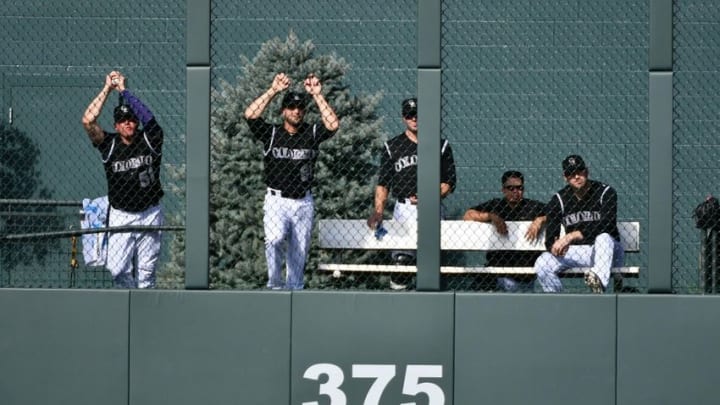 Sep 5, 2016; Denver, CO, USA; General view of the bullpen of the Colorado Rockies during the ninth inning against San Francisco Giants at Coors Field. The Rockies defeated the Giants 6-0. Mandatory Credit: Ron Chenoy-USA TODAY Sports /
Happy Purple Monday Rockies fans! The major league baseball season is quickly coming to an end as there are less than two weeks of games left. The Colorado Rockies won't make the playoffs but still have a chance to finish .500 if they can go 9-4 in their final 13 games. Regardless, they will finish much better than last year as I delved more into last week.
So this week, I am going to focus on one of the big question marks facing the Rockies next year … the bullpen. It has been the biggest problem this year and I am going to look at just how they have performed.
To make things easy, I'm going to divide the arms the Rockies have used in the bullpen this year based on ERA. The Rockies current ERA as a team is 5.09, which is only .01 better than the Diamondbacks' mark of 5.10, which is worst in the league. The Nationals are on the other side of the spectrum with a team ERA of just 3.21. Our benchmark will be halfway between these two, an ERA of 4.155. Obviously, bullpen ERAs are always somewhat unusual secondary to a relatively small sample size compared to starters.
The Good
Let's start things off on the right foot and look at the Rockies' relievers who have been pretty good this year, or those with an ERA under that 4.155 mark. Unfortunately, this list will be short compared to the ones we will get to later.
More from Rox Pile
Jordan Lyles: ERA 3.79
After not pitching well at all from the rotation in 2016, Lyles moved to the bullpen in mid-June. He has progressed from long reliever type duty to being inserted in higher leverage situations. In my opinion, he has pitched well enough to be "a lock" in the plans for the 2017 bullpen.
Adam Ottavino: ERA 2.35
Adam made his way back from Tommy John surgery in 2015 and has not disappointed. He got his fifth save of the season yesterday after moving to the closer position secondary to Carlos Estevez's struggles. He's averaging over a strike out per inning (10.2 K/9) and has a tiny WHIP of 0.957. His slider is one of the nastiest pitches in the majors if you ask me.
Boone Logan: ERA 2.91
Logan has been a huge contributor for the Rockies after two rough seasons to start his time with the Rockies. He has progressed from a LOOGY to a full inning type guy. His WHIP is lowest on the team at .900. It will be interesting to see if the Rockies can agree on a contract to bring him back next year.
Chris Rusin: ERA 3.89
Rusin has had some starts this year but has also provided very valuable innings out of the bullpen. He hasn't gotten much of a chance in high-pressure innings, and I'm not sure he should as he pitches to a lot of contract. He could, however, be valuable for the Rockies next year as a long reliever and maybe thrown into a spot start when needed.
The Bad
The Rockies have a lot of guys pitching above the league bullpen average, while not terrible they certainly haven't helped the team very much.
Carlos Estevez: ERA 5.12
Carlos is one of the most exciting new guys in the bullpen as he was called up and worked his way into the closer's role. He racked up 11 saves but eventually struggled enough with control that he was removed in favor of Ottavino. He still has the stuff to be a closer with a triple digit fastball.
Mandatory Credit: Isaiah J. Downing-USA TODAY Sports /
Jake McGee: ERA 4.91
McGee also spent some time as closer this year, earning 15 saves. He has been up and down but all in all not able to miss enough bats (7.8 K/9) to stay in that position. I am hoping he can have resurgence in 2017 as he has improved in the second half. He is striking out a couple more guys while also allowing a lower BA and SLUG against him.
Justin Miller: ERA 4.99
Miller has spent time in AAA and with the Rockies and hasn't been particularly good in 36 games with the big club. He is a guy that could lose his roster spot sometime in the offseason as his WHIP is pretty high at 1.613 and noticeably worse than it was in 2015.
Miguel Castro: ERA 6.14
Castro came over with Jeff Hoffman in the Troy Tulowitzki deal. He was quite good early in the year (ERA of 1.50) before hitting the DL with shoulder inflammation. He wasn't able to find the same level of production after and spent most of the year in AAA.
Scott Oberg: ERA 5.19
Oberg is on the 60-day DL with a blood clot issue in his arm, which is a very scary thing to be dealing with. He actually was pretty good for the Rockies this year. In a seven-game stretch in late July and early August he has an ERA of 1.59 over 6+ innings. Maybe this flash of effectiveness will earn him a spot next year. He's a guy I always root for.
More from Colorado Rockies News
The Ugly:
This group includes some guys who are a let down based on offseason expectations and just in terms of not pitching very well.
Christian Bergman: ERA 8.10
Bergman was effective in a long reliever role in 2015, but has not found the same success in 2016. Rusin effectively replaced him this year, which I think is the right choice moving forward.
Matt Carasiti: ERA 13.50
Obviously, his numbers are victim of small sample size as Carasiti has only appeared in 13 games this year. When he has he hasn't been very good, his WHIP is 3.094. If he can limit the walks he has shown he has the stuff to strike batters out and could be effective in the future.
Jason Motte: ERA: 5.57
Motte is someone the Rockies expected a lot from signing him in the offseason to a two-year deal. He has been a disappointment because he hasn't been able to pitch very much secondary to injury and hasn't been that good when he has been on the mound. His WHIP is the second-highest it has been in his career and he is allowing a home run essentially every three innings.
Chad Qualls: ERA 5.23
Qualls is a similar situation to Motte as he was signed to be an anchor in the bullpen, which he certainly has not been. His WHIP is above 1.5 with a K/BB ratio of 2.44. He's also missed a lot of time due to injury.
Next: The Top 5 Left Fielders in Colorado History
If Jon Gray could pitch everyday maybe the Rockies wouldn't even need a bullpen. This was on display Saturday night with the Gray Wolf howling at Coors Field striking out 16 in a complete game shutout. It was the highlight of a solid sweep of the Padres.
Unfortunately, the bullpen is definitely an area the Rockies will have to improve on in the offseason. Free agency, a trade and prospects in the minors are all options. It will provide some good discussion for offseason no matter what. But for now, there are two more weeks of baseball to enjoy. The Rockies will face off with a St. Louis Cardinals team desperate for wins to gain ground in the wild card race.