How Much is Nolan Arenado Worth to the Colorado Rockies?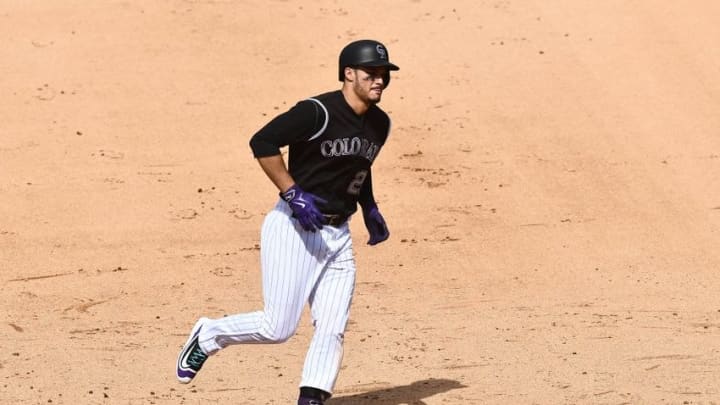 Aug 7, 2016; Denver, CO, USA; Colorado Rockies third baseman Nolan Arenado (28) rounds the bases after a three run home run in the fifth inning against the Miami Marlins at Coors Field. Mandatory Credit: Ron Chenoy-USA TODAY Sports /
One of the most rewarding parts of watching some ugly Colorado Rockies baseball the past few seasons was seeing the development of Nolan Arenado into a legitimate superstar. Arenado is young, supremely talented and only seems to be improving. So what would it cost to make sure he spends the prime of his career in Colorado?
Nolan Arenado is just 25 years old, a fact that's easy to forget when he's already in his fourth MLB season. This season has been another strong one from the third baseman, and he's established a reputation as one of the game's best all-around players. There's no disputing that Arenado is an incredibly valuable commodity, but putting an actual price tag on him is a challenge.
More from Colorado Rockies News
This last season, Arenado entered salary arbitration for the first time as a "Super-Two" player. Players usually aren't eligible for arbitration until after their third big-league season, but players close to the three-year mark (like Arenado this last off-season) enter arbitration a year earlier, and as a result, get four arbitration years instead.
Young players are usually affordable because the process of arbitration keeps their salaries limited until they've accrued enough service time to become free agents. But with Arenado, the arbitration years aren't going to come at a huge savings.
Arenado is making $5 million dollars this season, and that figure will almost certainly rise in 2017. That's still far below what he would make if he were to hit the open market, but Arenado has three more years of arbitration and barring something unexpected, he'll be compensated handsomely for each of them.
That limits the Rockies bargaining power somewhat. Teams usually get younger players to sign extensions by convincing them to give up some of their potential earning power in exchange for security. This tactic only works if the team can convince the player that their future as a big-league player isn't a sure thing, a pretty hard sell for a guy as accomplished as Arenado.
The earliest Arenado can become a free agent is 2020, so if Colorado were to sign him long-term, they'd likely want him to agree to a deal through at least 2022. That would be at least six years (assuming it got done this off-season), and it would take a lot of cash.
The best recent comp for a potential Arenado signing is probably Kyle Seager and his contract with Seattle. Seager signed a seven-year, $100 million dollar deal with the Mariners before the 2015 season. The contract bought out the rest of Seager's arbitration and the first four seasons of his potential free agency.
Obviously, Seattle had to invest quite a bit to get Seager to stay for the long haul. If Colorado wants to do the same with Arenado, it's probably going to cost them even more. Seager is a good player, but he's not in Arenado's class with the bat or the glove.
More from Rox Pile
Seager makes roughly $14.3 million a season over the life of his deal, so it's not unreasonable for Arenado to ask for close to $20 million a season in a potential extension. That would be an even richer deal than the infamous huge extensions the Rockies gave Troy Tulowitzki and Carlos Gonzalez in 2011.
Aug 6, 2016; Denver, CO, USA; Colorado Rockies third baseman Nolan Arenado (28) makes a throw to first in the third inning against the Miami Marlins at Coors Field. Mandatory Credit: Isaiah J. Downing-USA TODAY Sports /
Arenado is represented by Wasserman Media Group, the same agency responsible for negotiating the largest contract in North American sports history for Giancarlo Stanton. Nolan isn't going to get $325 million (not from Colorado anyway), but he's going to be very rich when he does sign a multi-year deal.
That's not to say it couldn't get done though. Two of Colorado's four most expensive contracts expire at the end of this season, and the biggest deal on their books (the aforementioned Gonzalez extension) ends after next year. Few teams in baseball have the type of payroll flexibility that the Rockies currently enjoy, and that should serve as a big advantage in future seasons.
The Rockies could limit the "sticker shock" and risk on such a long, expensive deal somewhat by including opt-out clauses in the contract. These are a double-edged sword though; they can help negate some of the damage on a bad deal for the team, but they can also take away a team's negotiating power and put it in the hands of the player if he performs well over the contract.
So, to loop back to the original question of the article: What is Nolan Arenado worth long-term? The simple, if not somewhat unsatisfying, answer is "whatever amount he's willing to agree to". But, if you're looking for this author's opinion on what would be a fair deal for both parties…
Next: Boone Logan Talks How Alex Rodriguez Impacted His Career
Contract terms for Arenado extension: 7 years, 140 million dollars with mutual opt-out clauses for the last two seasons.