Colorado Rockies Select Riley Pint With Fourth Pick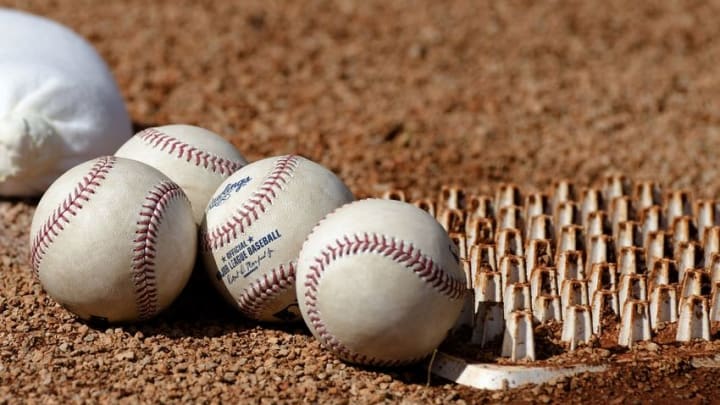 Feb 19, 2016; Kissimmee, FL, USA; A stack of baseballs sit on the pitching mound at Osceola County Stadium. Mandatory Credit: Jonathan Dyer-USA TODAY Sports /
With the fourth pick in this year's first-year player draft, the Colorado Rockies selected right-handed pitcher Riley Pint out of St. Thomas Aquinas High School in Overland Park, Kan.
These days, the MLB draft garners as much pre-game speculation as the Oscars, with many teams' picks considered done deals long before the phone calls are made. This year's draft, however, presented some uncertainty, as even up until a few days ago Florida's A.J. Puk was thought to be a shoo-in for the first pick.
Since then, the Philadelphia Phillies seemed to be going all-in on high school outfielder Mickey Moniak, and he ultimately did go first. The Phillies' pursuit of Moniak (whom many early mock drafts pegged as the Rockies' choice) shook up other obvious matches, leaving the field wide open.
As it is, the Colorado Rockies decided to go with Pint, an 18-year-old recent high school graduate who is committed to play at Louisiana State University this fall. He'll now have the option to sign a major league contract instead, a tough choice for a talented young kid. If he opts to go to school instead, he'll be able to re-enter the draft in future years. Obviously, the Rockies are hoping he is willing to bring his plus velocity and deceptive movement to the pros. His 0.50 ERA and 75 strikeouts in 42 innings pitched make him attractive to a team always desperate for young pitching.
More from Colorado Rockies News
According to MLB's analysis, Pint has "the highest ceiling in the draft." This may or may not be something that excites you; if it didn't, that would be understandable. The Rockies have been hit-or-miss thus far in their draft-and-develop success rate, though the recent growth of Jon Gray and Eddie Butler suggests perhaps we've turned a corner.
If the club's coaches are able to take Pint under their wings and provide him with the tools and confidence he needs to succeed at Coors Field, then we could have a winner on our hands. The stuff is there; it's the confidence I worry about. Both Butler and Gray have commented that pitching at Coors presents very challenging mental obstacles, and it's hard to say whether they've been given that message all the way up or not. What will matter most for Pint is that he can set aside any doubts that he has what it takes to be an asset to this team, so that he can develop into the best pitcher he can be.
Next: How Key Rockies Were Viewed at Double-A Tulsa
Check out the video below for a look at Pint's talent in action.