Colorado Rockies: An In-Depth Look at a Historic Night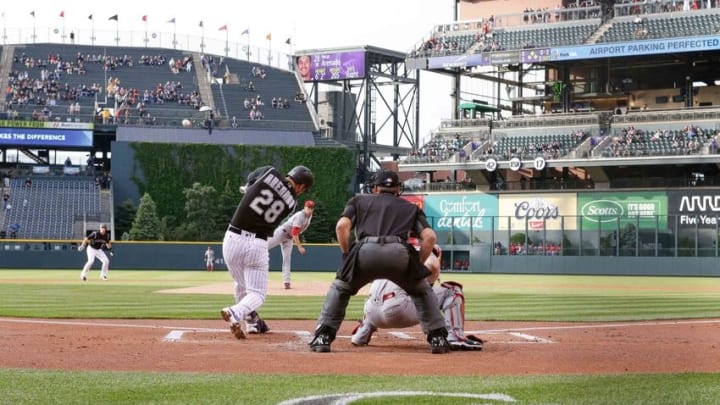 May 31, 2016; Denver, CO, USA; Colorado Rockies third baseman Nolan Arenado (28) hits a two run home run in the first inning against the Cincinnati Reds at Coors Field. Mandatory Credit: Isaiah J. Downing-USA TODAY Sports /
Tuesday night at Coors Field, Colorado Rockies center fielder Charlie Blackmon played in his 500th career game. He celebrated the milestone in fine style and his teammates joined him in a record-setting night.
Blackmon launched two home runs, part of Colorado's historic long-ball onslaught, as the Rockies notched a 17-4 decision over the Cincinnati Reds at chilly Coors Field.
In all, the Rockies blasted seven homers against the Reds, marking the most home runs ever hit by Colorado at Coors Field. It was only the second time the Rockies have hit seven homers in a single game, matching a feat set on April 5, 1997, at Montreal.
Games in which Colorado has hit six or more homers in a game…
May 31, 2016 vs. Cincinnati (7 homers)
April 5, 1997 at Montreal (7 homers)
June 5, 2013 at Cincinnati (6 homers)
July 4, 2008 vs. Florida (6 homers)
September 17, 1999 vs. Los Angeles (6 homers)
August 14, 1999 vs. Montreal (6 homers)
June 9, 1999 vs. Seattle (6 homers)
Blackmon's seventh-inning grand slam was his first-ever grand slam and gave the Rockies the Coors Field homer record. It was also part of a record 14 extra-base hits and record 47 total bases racked up by Colorado on the night.
"Really? Ever? We hit seven homers as a team tonight? That's a lot of homers. We should do that every time," Blackmon said after the game, smiling. "We have a really offensive team and a lot of guys that have some power. Seven's a lot. The (Blake Street) Bombers couldn't do it. Why could we do it? Everybody got locked in at the same time tonight."
More from Colorado Rockies News
Additionally, Blackmon led off the game with a homer for the second consecutive game. It was his 15th career leadoff home run (third this season) and also his 50th career home run. He extended his hitting streak to nine games and has now reached base in a career-high 26 consecutive games.
Blackmon's night was just part of a Colorado Rockies lineup filled with eye-popping performances. Let's take a look at some of the best.
CarGo went 3-for-5 with two RBI to extend his hitting streak to nine games. He's had seven multi-hit games in that span. On Tuesday, he hit his 10th home run of the season and has now hit a home run in four consecutive games and in five of his last six. It's the third time in his career he has hit a home run in four consecutive games and the first since July 28-31, 2010.
He's batting .514 (19-for-37) with 11 runs, two doubles, one triple, five home runs and nine RBI during this hitting streak.
"It's fun. I've been in a lot of games where we've scored a lot of runs, but today was impressive because everyone was hitting home runs," Gonzalez said. "I enjoyed it and I'm happy I was a part of it."
Colorado's second baseman had a career-high tying four hits and career-high three extra-base hits. He nearly hit for the cycle, but his sixth-inning opposite-field double was smothered by Cincinnati's Jay Bruce, keeping him from getting a triple.
"He's really matured as a hitter over the last couple of years," Colorado manager Walt Weiss said of LeMahieu after the game.
More from Rox Pile
Colorado's All-Star third baseman continued to impress at the plate, logging his third two-homer game of season and the eighth of his career. Entering Wednesday's play, Arenado was tied for the Major League led with 16 homers and ranked third in RBI with 43.
Quotes of the night
Blackmon on the fireworks at the plate…
"I know it's just one win but it feels good to put a statement and exclamation point and put an end to the way that we've been playing the last couple of games. There's always an urgency to win and we're trying to win every series."
Blackmon on if he knew he hit the ball out for his grand slam when he connected on it…
"I didn't think it was out but I thought there was a good chance it might get to the warning track or bounce around in the corner for extra bases."
Blackmon on his approach at the plate…
"You never like to take things for granted and assume you're going to win or assume you're going to finish off the rest of the game with no injuries. I personally think it's a big deal to not get real high and get excited. If you do that and you go to that place, it's easy to give away your last at-bat."
Blackmon on why the offense was clicking on Tuesday night…
"I think you saw guys still swinging at good pitches, hitting the ball hard, and not losing focus or chasing out of the zone. I think we did a good job of being competitive for nine innings."
Weiss on the offensive show…
"You don't get many of those types of games. You enjoy them while you can. Good to see several of our guys taking a really nice approach. CarGo, I don't think there's any doubt now that he's locked in. I think he had five at-bats and hit everything the other way hard. That's always a great sign. It was a good night offensively."
Next: Is the Bullpen the Answer for Jorge De La Rosa?
Weiss on what changed for his batters heading into the game…
"The last couple days, (hitting coach) Blake (Doyle) in the cages really preached about getting back to our big part of the field approach. There's been a heightened sense of awareness about that. A lot of rollover outs in the previous handful of games, so we wanted to get back to our solid approach, and I think it resonated but the guys were able to take it into the game."