Colorado Rockies Continue to Struggle in San Diego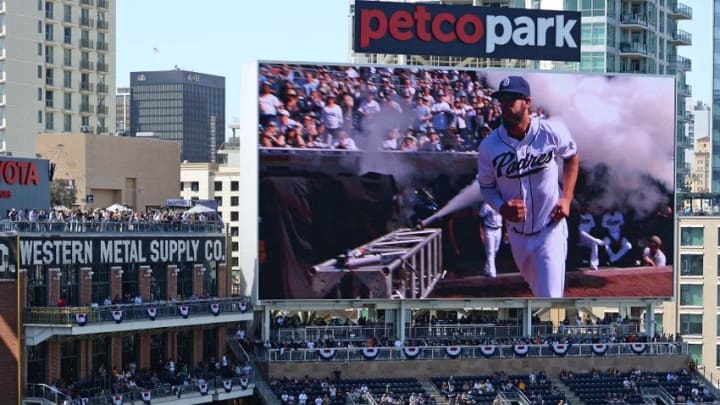 Apr 9, 2015; San Diego, CA, USA; A view of the new scoreboard in the left field bleachers during the pregame introductions as San Diego Padres starting pitcher James Shields (33) is introduced before the game against the San Francisco Giants at Petco Park. The new scoreboard is the largest in the National League. Mandatory Credit: Jake Roth-USA TODAY Sports /
San Diego is a beautiful city with great weather and a lot of charm. However, for the Colorado Rockies, the city has been a house of horrors in recent times.
With Tuesday night's 6-3 loss, the Rockies have now lost 20 of their past 26 contests in San Diego. That includes two consecutive losses where the Rockies, who looked like world-beaters in the road sweep over the Arizona Diamondbacks just before heading to San Diego, have seen their offense sputter.
"The last two days, we haven't gotten it done," said Colorado manager Walt Weiss. "And that's been the frustrating part because coming off the series in Arizona, we were really good offensively. I know that's baseball and that's the nature of the game. It comes and it goes when you talk about offense, but I'd like to see quicker adjustments on the fly."
Those adjustments haven't happened lately in San Diego, where the Colorado Rockies are 90-101 all-time, including 54-58 at Petco Park. Balls that are smashed here go to die on the warning track rather than flying over the wall as they would in other parks throughout the National League. It presents an interesting challenge for the Rockies, who play half their games at hitter-friendly Coors Field.
More from Colorado Rockies News
"It's one of our challenges. Historically, it's been that way," Weiss said. "A lot of it comes down to mentality and not getting away from your approach or the keys that make you successful, regardless of where you're playing at. We're in a division where there are a lot of pitcher's parks so we get a lot of practice at trying to perform inside a pitcher's park."
Take away Colorado's 6-20 mark over their last 26 games at Petco and the Rockies were 44-38 in the site of the 2016 All-Star Game prior to their recent troubles.
"I know before that time, this was one of the places where we had some road success," Weiss said. "When we were going through all of our road struggles, this would be one of the places where we would have success.
Next: Jon Gray Reflects on his 11-Strikeout Performance
"This has been a weird place for us. We've come in and done really well at times. Historically, this has been one of the better parks for us on the road in terms of winning games and being successful. Then there are other times where we come in here and lay an egg. We've seen both extremes in this park."