Colorado Rockies: Interim GM Bill Schmidt's 5 most interesting trade deadline quotes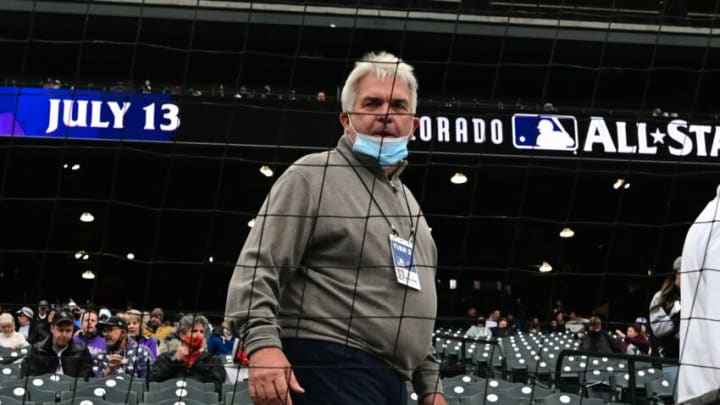 May 16, 2021; Denver, Colorado, USA; Colorado Rockies interim general manager Bill Schmidt before the game against the Cincinnati Reds at Coors Field. Mandatory Credit: Ron Chenoy-USA TODAY Sports /
The 2021 Major League Baseball trade deadline came and went on Friday afternoon, with the Colorado Rockies sitting back and watching the fireworks happen everywhere from Chicago to San Francisco.
In a conference call with Rockies media members on Friday just after the trade deadline, Colorado Rockies interim general manager Bill Schmidt talked with the media (including Rox Pile) about the franchise's direction and lack of any moves at the deadline with the exception of reliever Mychal Givens being traded on Wednesday to the Cincinnati Reds for two minor league pitchers.
Here's a quick summary of the call and the aftermath of Friday for you.
Yes, it was quiet. No, the Rockies didn't deal Trevor Story, Jon Gray, C.J. Cron, or Daniel Bard. Yes, the Rockies listened to offers. No, those offers were not good enough to prompt the Rockies to make a move. Yes, the Rockies are fine keeping Story. No, the team was never shopping Gray or Bard, making the internal decision to keep pitching as a priority. Yes, Story is not happy.
There's a lot going on at 20th and Blake right now, and a majority of it is making fans scratch their heads. Six months after backlash following the Nolan Arenado trade, Rockies fans are once again asking what is going on and when they will know what direction this franchise is truly taking.
Schmidt had an answer for those fans on Friday. Here's what he would tell the fans, and it's the first quote set apart below, and the first of five quotes we've set aside with some thoughts about each.
Here are the five most interesting things we heard about the Colorado Rockies and the trade deadline.
""We're trying to do what we believe is in the best interest of the Colorado Rockies, trying to build a winning club for them," Schmidt said."
There's the thought from the front office, folks. Keeping Gray and potentially working out a long-term deal? Absolutely, that makes sense. Pitching is important at Coors Field, and especially pitching that is comfortable at Coors Field.
More from Colorado Rockies News
And working out a deal with Gray is to come, during and maybe after what could be a very uncomfortable two months with Story already voicing his displeasure.
""I feel good about our process and how we handled things," Schmidt said. "It's a snapshot in time right now. We're going into the offseason trying to improve the club, but I thought our process was solid.""
Yes, the Rockies are happy with what happened internally on Friday. But what about the handling of Story? Many expected the Rockies to find a new home for him before Schmidt told teams and the public that his franchise wasn't to be viewed as a farm system for other teams.
""With what we were offered, we thought the (competitive balance) pick was better suited for us and we could have Trevor on our team for another two months … If (any deals) were close, we probably would've got to the finish line.""
Two months of Story and a qualifying offer to come at the end of the season. That's what Rockies can expect in regards to their All-Star shortstop. And Schmidt made sure to say that that course of action shouldn't come as a surprise to Story at all.
""I think It's natural," Schmidt said of Story's expressed frustration. "He probably built it up at the deadline and what was being portrayed in the media. I'd like to think I kept him abreast of what was going on and what could potentially happen. I told Trevor in the past, 'Hey, there's a chance you might still be here.' He knew. The disappointment, I understand that, but I think Trevor's a very good professional. He'll move on. He'll play through it. We'll go on and address it in the offseason.""
It has all of the feelings of a divorce that has been rumored for months among friends and has finally been made public. It also has the feel of a divorce that could get ugly since one of the spouses is still living in the house for a few weeks.
To sum it all up, Schmidt said he and the Rockies feel like they tried as the trade deadline zoomed by, but nothing was worth pulling the trigger.
""At the end of the day, nothing came to fruition. We made a deal with Mychal Givens a couple of days ago and that ended up being the only deal. It wasn't for a lack of effort. Talks were close but at the end of the day, it is what it is.""
It is what it is, says Schmidt. But it feels like more, doesn't it? It feels like another step backwards in the relationship between the team and its fanbase. It feels like another time of kicking the can down the road and saying the Rockies will make a big splash later on … but not today. It feels like a lot of the same, and that perhaps is the most disappointing thing of all for Rockies fans.