The Colorado Rockies would be making a colossal mistake by not picking an external general manager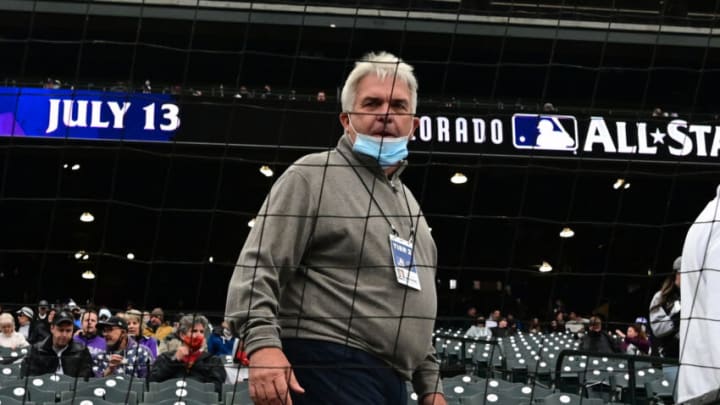 May 16, 2021; Denver, Colorado, USA; Colorado Rockies interim general manager Bill Schmidt before the game against the Cincinnati Reds at Coors Field. Mandatory Credit: Ron Chenoy-USA TODAY Sports /
On Thursday, Patrick Saunders and Kyle Fredrickson of The Denver Post reported that Colorado Rockies' president Greg Feasel is remaining optimistic with their front office after the departures of assistant general managers Jon Weil and Zach Wilson.
However, Saunders had a tweet about his conversation with Feasel that put Rockies Twitter implode.
This, as Saunders says, is just his "sense" of the situation but it's something that many people have thought in the recent weeks and months since Bill Schmidt took over in the role after Jeff Bridich's departure.
But the Colorado Rockies would be making a colossal mistake if they don't hire someone outside of the organization.
More from Rox Pile
That isn't a knock on Bill Schmidt, who Feasel thinks has "done a great job" in his role. But it's not a knock for one main reason: In the public realm, we haven't seen Schmidt do much of anything but the one thing that we do know (as we saw in this report) is not a good look for Schmidt and the Rockies.
But the Rockies would be making a colossal mistake by not hiring someone else from outside the organization. Why? The Rockies need to turn the page on what has been misstep after misstep after misstep throughout the last decade.
Sure, they made the playoffs in 2017 and 2018 but you can very easily contend that the Rockies made the playoffs despite the moves that the front office made, not because the moves the front office made.
The Rockies, of course, have not tipped their hand publicly on whether or not they are leaning one way or another in regards to the new GM other than that they will conduct a GM search this offseason and that Schmidt will "absolutely" be considered for the permanent job.
With a GM from the outside coming in, they will bring a new set of eyes on how the Rockies can turn things around and they will bring in their own front office help as well, which will be a huge factor in decisions going forward.
One of the biggest things will be to determine the solution for the Rockies road woes. The Harvard graduate wasn't able to figure that out, win an NL West title, win multiple games in the playoffs.
What the Rockies need is more analytical minds making decisions and making business decisions that are smart for the team, not dumping hundreds of millions into players that play like they should be in Triple-A and not hanging on to players that aren't pulling their weight just because they are "nice guys" who have been "loyal."
At the end of the day, it is about winning baseball games and making fans happy … and right now, the Rockies aren't achieving either goal and it will continue until there's even more of a shakeup.