Colorado Rockies podcast: How Raimel Tapia can learn from Ryan McMahon, advanced stats, and betting odds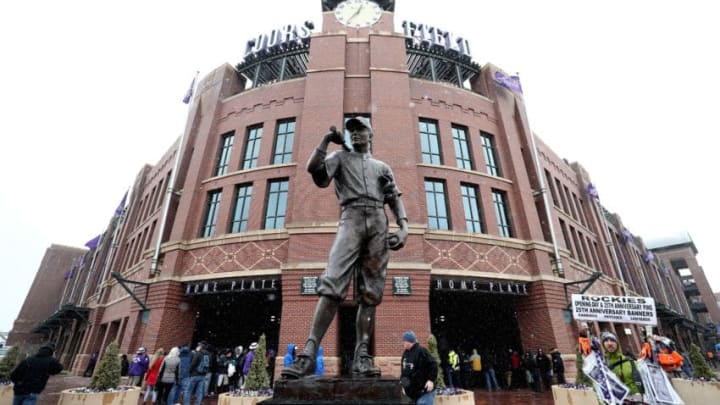 DENVER, CO - APRIL 06: Fans enter the stadium before the Colorado Rockies home opener against the Atlanta Braves at Coors Field on April 6, 2018 in Denver, Colorado. (Photo by Matthew Stockman/Getty Images) /
On this episode of the Rox Pile Rockies Report, Rox Pile contributor Kevin Larson joins me to talk about his recent article about Colorado Rockies outfielder Raimel Tapia and what he can learn from Rockies infielder Ryan McMahon at the plate.
Since he has published that article, Tapia has an eight-game hitting streak in which he is hitting over .400 but it is via the way that Tapia may not benefit from.
We discuss how Ryan McMahon has been struggling recently as well but also how his success this season has been front-loaded some, after Luke Hall recently had this tweet about that.
McMahon (and Joshua Fuentes) have done an excellent job replacing Nolan Arenado at third base defensively.
We also talk about advanced stats and a former Rockie that defied them.
More from Rox Pile
We also talk extensively about OPS+ and wRC+ and how the difference between talent evaluation from yesteryear and talent evaluation in today's game of baseball. There's a lot of players that would have been on the chopping block in yesteryear but now, since teams pay attention more to on-base percentage and slugging percentage rather than batting average, those same players are in the middle of some team's lineups.
We discuss some instances of players that fit that mold in baseball currently as well as some players that are discounted because they have a high batting average but haven't showcased a lot of power. We mention one former Rockie that fit that mold when he was in a Rockies uniform.
We then end the podcast with some things that you may (or may not) want to look at for betting odds this weekend. If you live in Colorado, Indiana, Michigan, New Jersey, Virginia, or Tennessee, you can check out WynnBet, our sponsor for betting odds. You can also check out our sister site, BetSided, with other ideas on betting as well.
You can listen to the podcast above or wherever you download your podcasts.
As a note, our personal opinions on betting odds do not necessarily reflect the views of Rox Pile as a whole or FanSided. When it comes to gambling, know when to stop before you start. If you think you might have a gambling problem, call the National Council on Problem Gambling Hotline at (800) 522-4700.