Colorado Rockies: After mundane start for German Marquez, should we be worried?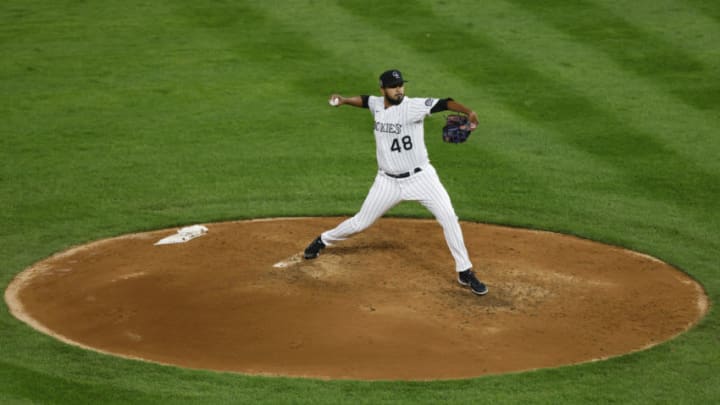 DENVER, CO - AUGUST 11: German Marquez #48 of the Colorado Rockies delivers to home plate during the fifth inning against the Los Angeles Angels at Coors Field on September 11, 2020 in Denver, Colorado. (Photo by Justin Edmonds/Getty Images) /
German Marquez of the Colorado Rockies /
FanGraphs has a great amount of Advanced Stats and Park-Factored stats that are always very helpful for evaluating Rockies players. Here's what they say about Marquez's first three starts:
5.73 xERA | 5.94 FIP | 4.89 xFIP | 86 ERA- | 137 FIP- | .318 BABIP
OK. So if you're new to Advanced Stats, I'll give you a quick breakdown here real quick:
xERA simply means "Expected ERA." If we think back to Marquez's 4.02 ERA, and see that it's expected to be 5.73, that points toward the fact that he's probably gotten very lucky. Think back to his start against the Dodgers where he gave up six hits, walked six batters, and struck out only two while giving up just a single run. Marquez has certainly gotten lucky in spots his first few starts.
More from Rox Pile
FIP (Fielder Independent Pitching) is a stat that measures the Three True Outcomes: Strikeouts, Walks and Home Runs. To make it simple, the more batters you strikeout, the fewer you walk and the fewer homers you give up then the lower your FIP will be. Think of it like another form of ERA. Now let's look at Marquez's FIP and oh no, 5.94 is NOT good. Given that his ERA is 4.02, that gap says that once again he's gotten lucky. Now scroll over to his xFIP (Expected FIP) and we see it's about a run lower. So it may not be as bad as we think, but it all points towards the fact that his stats should still be higher.
Now let's look at the park-factored stats. ERA- and FIP- will essentially tell us how well Marquez is doing compared to what a league-average pitcher would do at Coors Field. Marquez's ERA- checks in at 86. With a league average ERA- at 100, that means Marquez's ERA is 14% better than average. That's pretty good! Now let's check that FIP- of 137. That means his FIP is 37% worse than a league-average pitcher would have on the Rockies and oh no, this doesn't seem so fun anymore. That gap is certainly driven by the fact that Marquez is walking batters at a massive clip and striking out batters at a lower rate than he normally does. Not exactly something you want to see out of your ace.