Colorado Rockies podcast: 2021 predictions and hot takes, including on the front office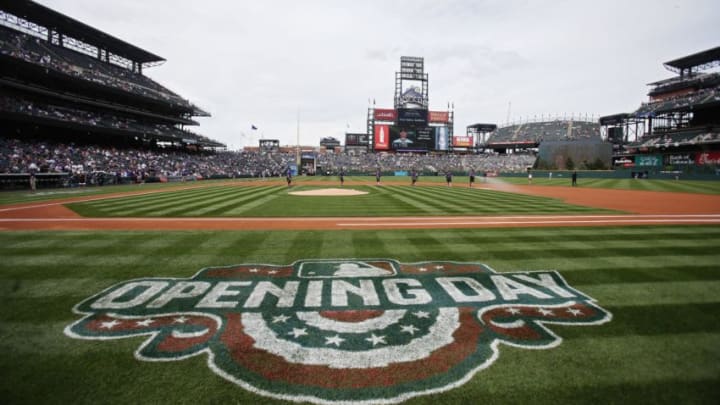 Apr 7, 2017; Denver, CO, USA; A general view of the opening day logo on the field before the game between the Colorado Rockies and the Los Angeles Dodgers at Coors Field. Mandatory Credit: Chris Humphreys-USA TODAY Sports /
To all Colorado Rockies fans out there: Happy Opening Day!
In episode 45 of the Rox Pile Rockies Report podcast, my co-expert, Kevin Henry, and I discuss our predictions for the Colorado Rockies and the other 29 MLB teams. We discuss win-loss records for all 30 teams. We don't have too many surprises on the teams making it into the playoffs but we have a bit of a disparity on some of the win-loss records.
In either or both of our predictions, will we have the Rockies with the worst record in the sport and getting the first overall draft pick or are we more optimistic than that?
More from Rox Pile
We also discuss some of the over/under numbers for the team and we both agree on what we'd take for the Rockies.
We also give some bold predictions for the Rockies and baseball, in general, in 2020 including a very hot take on the Rockies front office, especially after comments that ESPN's Kiley McDaniel made in the previous episode of the podcast. I also had some bold predictions in this article and one specific one here on the Rockies earlier this week as did Ben Macaluso in this article.
For the postseason pictures, we also have some hot takes and predictions including who the representatives for the American and National League will be in the 2021 World Series. We have some matchups happening in the postseason that we have seen in recent years.
You can listen to the podcast above or wherever you download your podcasts.
You can watch Opening Day on AT&T Sports Net Rocky Mountain or on ESPN (through fuboTV here) and you can listen to radio coverage on KOA 850 AM and the rest of the Rockies Radio Network. You can also listen to the game via the MLB At Bat App. The game starts at 2:10 PM M.T.
We will have live coverage from Coors Field for the season-opening series, so keep an eye on RoxPile.com for the latest Rockies news, analysis, and information as well as our Twitter page.