Colorado Rockies podcast: ESPN's Kiley McDaniel on franchise direction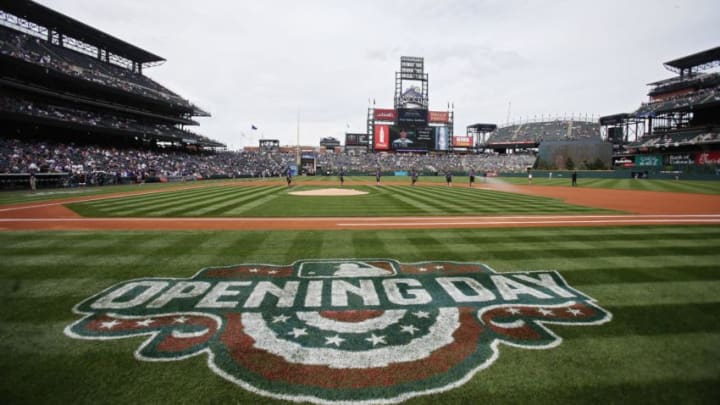 Apr 7, 2017; Denver, CO, USA; A general view of the opening day logo on the field before the game between the Colorado Rockies and the Los Angeles Dodgers at Coors Field. Mandatory Credit: Chris Humphreys-USA TODAY Sports /
What will it take to turn the Colorado Rockies around? Plenty, says ESPN MLB insider Kiley McDaniel, who joined us for our most recent podcast.
On the eve of 2021 Opening Day, when the Rockies are set to open a four-game series at Coors Field that will be part of a national quadruple-header broadcast by ESPN, McDaniel talked with us about the current and future states of the franchise. That included those nationally who are looking at the Rockies and wondering about their direction.
"Nobody disputes they are the 30th-best run organization right now," McDaniel said of the Rockies in the 30-team setup that is Major League Baseball.
More from Colorado Rockies Podcast
Of course, criticism of the franchise has ramped up considerably in the wake of the trade that sent Nolan Arenado to the St. Louis Cardinals. Could Trevor Story be the next Rockies All-Star player traded? If so, it's part of a cycle that has seen the on-field face of the franchise change completely. McDaniel shares his thoughts on the inner workings of the Rockies and how it is perceived on a national level (spoiler alert, it isn't good).
But what about the next generation? McDaniel gives his thoughts on Rockies top prospect Zac Veen (who McDaniel said is Colorado's next top 100 player in this article (subscription required)) as well as the future of former highly regarded prospect Brendan Rodgers, who will start the season unavailable to the Rockies because of a hamstring injury.
McDaniel also touches on the prospects for 2020 draft pick Chris McMahon and what he could mean for the Rockies rotation on the future.
You can listen to the podcast, including the conversation with McDaniel, by clicking below.
We will be at Coors Field for the season-opening series, so keep an eye on RoxPile.com for the latest Rockies news and information. You can also follow us on Twitter here.