Colorado Rockies Runners on 1st…and 2nd guesses: German Marquez should not have been pulled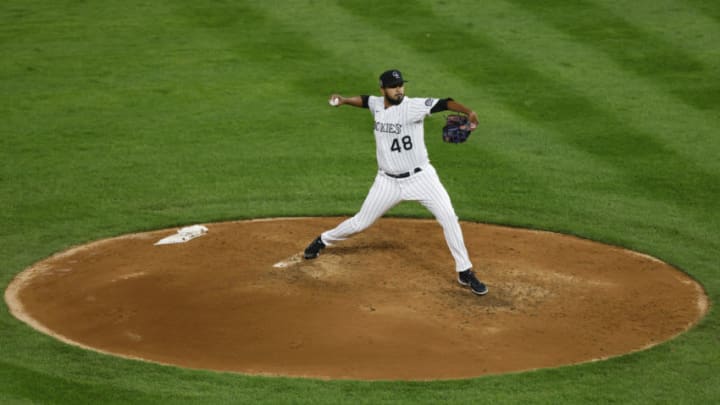 DENVER, CO - AUGUST 11: German Marquez #48 of the Colorado Rockies delivers to home plate during the fifth inning against the Los Angeles Angels at Coors Field on September 11, 2020 in Denver, Colorado. (Photo by Justin Edmonds/Getty Images) /
The Colorado Rockies defeated the Los Angeles Angels 8-4 in dramatic walkoff fashion Friday night but it might not have had to be that way if not for one simple move.
Thanks to the game-tying home run by Ryan McMahon and a walkoff grand slam by Charlie Blackmon, the Colorado Rockies came back from a 1-run in the 9th inning to beat the Los Angeles Angels 8-4.  It was a much-needed win and boost of momentum for a team that is a game and a half out of the final playoff spot.
Despite the Rockies' victory, I have been utterly fixated on why manager Bud Black pulled German Marquez after the 7th inning having only given up 2 runs after throwing 91 pitches.  At the time, the Rockies were leading 3-2 and Màrquez had been practically dominant as those 2 runs he gave up came all the way back in the first inning.
After giving up four straight singles in the first, Marquez settled down and allowed only two more hits and one walk in his next 6 innings of work while adding four more strikeouts after striking out Taylor Ward to end the first.
More from Rox Pile
In the 8th, Black turned to the newly acquired Mychal Givens for relief but disappointment reared its ugly head quickly as Jared Walsh hit a game-tying home run into the right-field bullpen.  Givens was able to hand the ball off to Daniel Bard in the 9th without any more damaged but the struggling bullpen continued its poor play.
Bard allowed former Rockies' minor leaguer, Anthony Bemboom, who had 2 home runs in 89 career at-bats coming into the game, to go deep for the go-ahead run that would set up the Rockies' 9th inning heroics.
The question is why did Black turn to the bullpen whose ERA is sitting at an abysmal 6.90 when Màrquez had been dominant for the last 6 innings and had only thrown 91 pitches (60 strikes)?
I realize that due up in the 8th for the Angels was the heart of their order, including the best player in all of baseball, Mike Trout, who was already 2-for-3 in the game, but considering how well Màrquez was pitching and how bad the bullpen has been, wouldn't sticking with the number one pitcher on the staff be the best option?
Bud Black has made some questionable decisions especially the past few weeks as the Rockies have fallen in the standings and this one is right up there at the top of the list.  Luckily, it didn't come back to haunt him Friday night but that doesn't mean it won't next time around.