2020 MLB Draft: Scouting Colorado Rockies first-round pick Zac Veen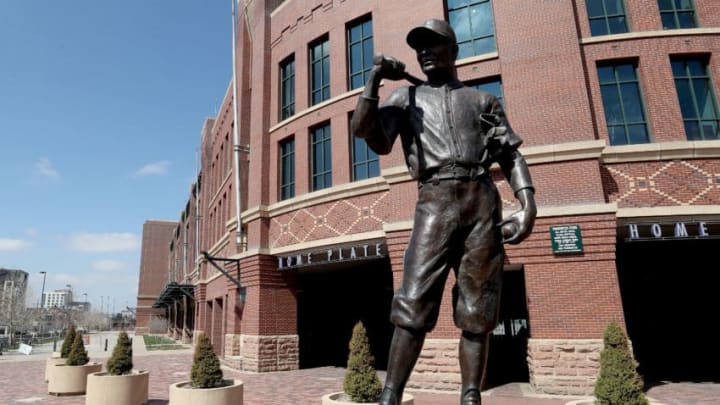 DENVER, COLORADO, - MARCH 26: Coors Field remains closed on what was to be opening day for Major League Baseball on March 26, 2020 in Denver, Colorado. Major League Baseball has postponed the start of its season indefinitely due to the coronavirus (COVID-19) outbreak. (Photo by Matthew Stockman/Getty Images) /
DENVER – JUNE 21: Troy Tulowitzki #2 of the Colorado Rockies is congratulated by manager Clint Hurdle #13 as he leaves the field after they swept the series with the New York Yankees as the Rockies defeated the Yankees 4-3 during Interleague play at Coors Field on June 21, 2007 in Denver, Colorado. (Photo by Doug Pensinger/Getty Images) /
More from Rox Pile
Here is what MLB.com had to say about Veen before the draft:
"Veen has the kind of left-handed swing that scouts can dream on, all coming from a projectable 6-foot-4 frame that can definitely add strength. He's more hit over power in games with excellent bat speed, especially because he utilizes a spread out stance, but he'll show off big-time power in batting practice when he stands more upright and creates leverage, showing the ability to loft the ball consistently. He's reminded some of Cody Bellinger offensively and has drawn some Kyle Tucker comps as well, though he's not quite as athletic. A solid average runner underway, Veen plays center field now, but is probably better suited for a corner spot. The Florida recruit is athletic enough with enough arm to profile in right, where his power potential could be a fit as well. If he continues to swing the bat like he did over the summer, he could very well figure into first-round conversations. His step forward at the start of the 2020 season, picking up from where he left off over the summer, has him very much in conversations among teams picking in the top 10."
This reeks of Troy Tulowitzki when he came in the league until Clint Hurdle told him to stand tall in the box like his 6'4 frame allows him to, and he took off to MVP form after.
Here's to hoping the Rockies still have a Hurdle-like influence in the organization. I am so happy they decided to go with the best player available. Those that have read or heard me before, know I'm not a rose-colored glasses kind of guy. I am an extremely harsh critique and grader, you really have to hit it out the park (pun intended, I am a father after all) to get me to give you an A.
Well, Rockies, you did it, I give you a full A+ for this pick, I cannot wait to watch this kid grow into the superstar we all believe he will become. Now temper your expectations, he is literally still a kid at 17, it could take him a while to get to the show, a 2023 debut is the most likely the earliest we will see him in LoDo. But with the way this kid exploded between his junior and senior years of High School, packing on over 20 lbs. of muscle. He may be here before you know it.