Colorado Rockies trivia: What do you remember about 2019's last game?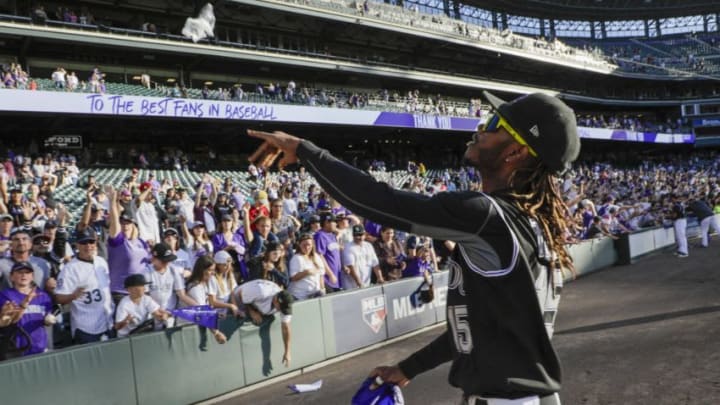 DENVER, CO - SEPTEMBER 29: Raimel Tapia #15 of the Colorado Rockies throws souvenirs to fans after the Rockies last game of the season at Coors Field on September 29, 2019 in Denver, Colorado. Colorado beat the Milwaukee Brewers 4-3 in 13 innings. (Photo by Joe Mahoney/Getty Images) /
DENVER, COLORADO, – MARCH 26: People cycle in front of Coors Field on what was to be opening day for Major League Baseball on March 26, 2020 in Denver, Colorado. Major League Baseball has postponed the start of its season indefinitely due to the coronavirus (COVID-19) outbreak. (Photo by Matthew Stockman/Getty Images) /
Until Major League Baseball resumes, the last regular-season game for the Colorado Rockies will be the one that took place on September 29, 2019, at Coors Field.
In that game, the Colorado Rockies finished off a sweep of the Milwaukee Brewers with a 4-3 walkoff victory. It was the second consecutive walkoff win for the Rockies, helping hand the St. Louis Cardinals the National League Central crown and putting a positive end to a 71-91 season for Colorado.
For Rockies fans, let's see how well you really remember that last game. A lot has changed since then, both in our world and with the Rockies roster.
More from Rox Pile
Here are three questions surrounding that final game. Let's see if you can answer them. The answers will be on the next page.
First, of Colorado's eight hits that day, only one player had a multi-hit game. Can you name that player? Here's a hint: He's no longer with the Rockies.
Second, which Colorado relief pitcher pitched the 11th and 12th innings, allowing no hits and striking out four Brewers? Here's a hint: He's no longer with the Rockies either.
Third, which Colorado player scored the winning run? Hint: He played a big role in the previous night's win over Milwaukee.
OK, do you think you know the answers? Head over to the next page and see how you did.